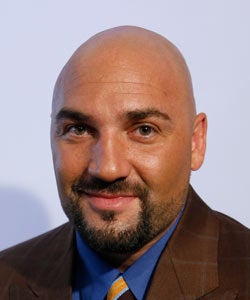 There's this thing about Jay Glazer that kind of makes you like him and annoyed by him at the same time. He seems like type of guy you'd hit the 50-cent wing and $8 pitcher special with at a bar for six hours, but then he'd get bored and drag you to a way-too fancy club just because "he knows people there." Then you'd get to the club, and the guy you just spent the last six hours drinking and bullshitting with will work the room like Sinatra, just letting you tag along. You'd feel like a third wheel even though it's just the two of you.
So, as much as Jay Glazer presents himself as "a jag-off from Brooklyn," it's a calculated approach, and it's one he's mastered to create the brand that is Jay Glazer. Right now, Jay Glazer The Brand has made himself into one of the most plugged-in reporters working the NFL beat. Today, Jay The Brand is the face of Subwayfreshbuzz.com, starring in a goofy NFL draft-themed webisode with former fat guy Jared and draft day darling Chris Long. He dedicated 30 minutes to talk to Deadspin between 3 and 3:30. He was a surprisingly great interview. So for his time and effort, please go watch his weird Subwayfreshbuzz.com thing. You know, he kind of earned that. I trimmed the fat on this interview, but it's still long as Santonio Holmes. Take it with you to the bathroom and enjoy all the Spygate goodness.
If you — or your "client" — would like to be included in an upcoming "Interviews Of A Lifetime," please contact either myself or Deadspin HQ for inquiries.
———————————————-
AJD: So, are you busy with the draft stuff right now?
JG: Oh, it's nuts. It's nuts Everybody calls constantly and you've got to try to figure out who's telling you the truth, and who's not, who's trying to smokescreen ya — for the most part, they don't smoke-screen me as much like they do some of the other guys. But you still have to make sure somebody's not smoke-screening you or when somebody's blatantly trying to tell you the truth then you have to check out WHY they're telling you the truth ... yeah, it's nuts. But fun, though.
You seem to developed a reputation as the go-to guy for a lot of people in the NFL. You piss Chris Mortensen off on a daily basis. How did you develop that reputation?
JG: I go about my business differently than others — I don't go for the scoop, I go for the relationship. I'm not trying to sit up here like I'm holier than thou, but that's what I do, and I probably report two or three percent of what I know and the other stuff ... well, you have to look at it like you're an information broker. Other guys will get a scoop and then burn somebody for that scoop. They're looking at it short-term, like "let's break this right now," even though it might burn this guy or piss this guy off. But I look at it and say, "If I burn this guy here, there's probably ten [stories] I'm going to lose." Let me never, ever screw anybody, and I'll continue to get the scoops. I'm not gonna get every scoop, Mort's not gonna get every scoop, Peter King's not going to get every scoop, Adam Schefter's not going to get every scoop — that's not how it happens. It's just a fact of life. The Favre thing was based on relationships that I've built for a long time, and I got it from a couple of guys that really nobody ever gives the time of day to. That's the other thing: You can't just go to the head coaches and the GMs and the star players — you have to go to everybody. Some of the biggest scoops I get are from the practice squad players, you know who are just a bunch of strokes, just like I am.
But how long does it take you to develop those relationships?
JG: Ah...my whole life. I have some guys that I've been friends with since I started in this league and they say to me, "You are absolutely the same jag-off you were the first day we met you." Before I was doing this, I was bartending in Brooklyn. I try to take kind of the same approach in dealing with people and attitude as I did when I was doing that. I act the same way toward my grandmother, or the commissioner of the NFL, or Warren Sapp —- doesn't matter who you are.
I think people realize that there are so many B.S'ers in this business, so many posers, that...one of the best compliments I got was from my ex...who said this to me at one point...
Not Miss New Jersey, right?