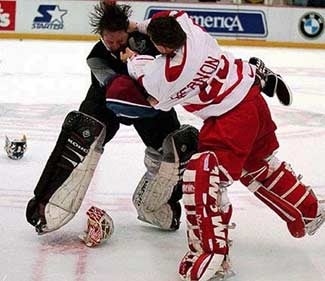 The NHL Closer is written by the five big kids over at Melt Your Face-Off. Separated, they are a quintet of meandering hockey bloggers. But combined, they make up the most powerful Blogging Voltron the Interwebs has ever seen. That is, if one of them would just give in and agree to be the fat guy who pilots the Yellow Lion. Stubborn bastards.
1997 was a time when The Worldwide Leader did, in fact, cover hockey. Barry Melrose got to showcase every last one of his tragically pinstriped suits. Darren Pang was on the payroll and could be counted on to fit into the small spaces behind desks should you drop your pen back there. Hell, NHL2Night was a nightly fixture, giving The Deuce something to break up all the thrilling coverage of a group of guys sitting around a table staring at playing cards. And yes, the only rivalry that could overcome Bristol's East Coast Bias was the Detroit Red Wings and the Colorado Avalanche.
So on a night where the Four-Letter did its best to pretend it cared about the overall well-being of Major League Soccer, they wanted you to know that they still had their eye on the first Wings-Avs playoff series in five years. How? But of course, by going to the archives and using that damn Vernon-Roy photo, that I've used above, on their homepage. As my comrade Raskolnikov alluded to in our Series Preview, this photo will have nothing to do with this series. But hey, it's not all bad. Mike Vernon's mother is making a scrapbook of all the press clippings of her son's career, and it's nice to keep her on her toes.