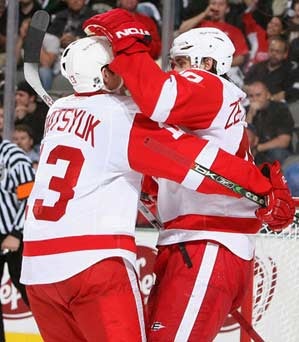 The NHL Closer is written by the Five Horsemen of the Apuckalypse from Melt Your Face Off. When not poring over the Book of Revelation for clues as to how to finally take out Gary Bettman, they can be found discovering new and inventive ways to commit blasphemy, blog-style. Weed Against Speed takes the reins of the Closer today.
Riding Pavel Datsyuk's first career hat trick, the Red Wings took out the Stars in a 5-2 drubbing at American Airlines Center in Dallas, taking a commanding 3-0 lead in the series. The Red Wings have now won nine straight games in the playoffs.
Datsyuk got the scoring started 9:27 into the first period, but Nicklas Grossman answered six minutes later to tie-up the game. I'm not a hockey expert by any stretch of the imagination, but I can say with complete confidence that allowing Detroit to answer 37 seconds later on Datsyuk's second goal of the night was kind of a momentum killer.

Dallas knew they had to come out aggressive in the second period, and it showed. Starting off on the power play, the Stars appeared to have the perfect opportunity to tie the game when Brenden Morrow was on the receiving end of a nifty pass from Mike Modano, but unfortunately he never got the shot off on an essentially empty net as the puck hopped over his stick.
The Stars kept coming at the Red Wings throughout the second period, in easily the most physical period in the series thus far. When it was all said and done, Dallas had out-hit Detroit 34-16 through two. Despite being dominated physically in the period, Detroit had perhaps the best hit of the period on Mike Modano.
Iit's too bad then for Dallas that out-hitting your opponent doesn't mean squat — goals do — and Jiri Hudler notched another one for Detroit at 11:54 in the second to put the Red Wings up 3-2 at the end of two periods.
From the beginning of the third period on, it was all Detroit Red Wings. Henrik Zetterberg put the Red Wings up 4-2 on a goal eerily similar to Big Daddy Drew's signature move from NHL '94. All that was left was Datsyuk getting his third goal to complete the hat trick at 17:19 and the game was over.