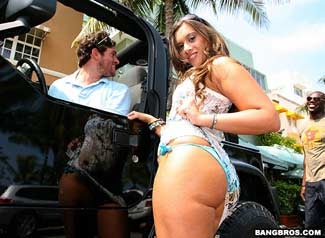 So, remember that Terrell Owens porn film cameo that had everyone up in arms? Owens' representatives desperately tried to make everyone take it down — us included — and did all they could to sweep it under the rug. But is Owens more involved with the porn world than we thought? A recent interview with ESPN's Sam Alipour raised a couple of questions.
Ostensibly there to promote his assuredly brilliant appearance opposite Flavor Flav in a sitcom, Owens talked about a new project he had coming up.
Media Blitz: Let's jump right in. This is awesome news. Terrell Owens and Flavor Flav. You have to admit, that's a wacky combo, no?

Owens: Well, you never know. That's not going to be the [last] of wacky combos you're going to hear of. And that's an FYI, hint-hint, so to speak. But Flavor Flav, he produced his own show, "Under One Roof" ...

Hold on, what's this "FYI, hint-hint" business?

(Laughs) It's a little business venture that I've got going on that's going to shock a lot of people.
And? What is it?
Naw, can't say right now. It's something that's in the works.
Is T.O. investing in BangBros porn films? It's quite the leap, sure, but we guess a lot of people would be shocked by that. But not us: We just hope Romo is a co-investor.
Ten Fun Minutes With Terrell Owens [ESPN]
Terrell Owens Confirms His Next Project [Fire Everybody]