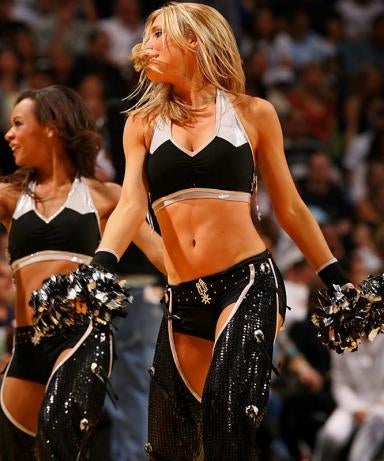 Basketbawful is here to once again bring you a double-dose of his favorite things: Boobs and basketball, not necessarily in that order. Okay, in that order.
San Antonio versus New Orleans: Game 6
Home cookin'. In case you didn't notice, home teams are 19-1 in the second round of this year's playoffs. Plus, neither the Hornets or Spurs have lost at home this postseason. Call me crazy, but I get the feeling that trend is likely to continue tonight...
Elimination game. The Spurs always seem to be on the other side of this situation. Just ask the Phoenix Suns. They're pretty efficient at closing teams out. But how good are they at staying alive? And forget, there's the little matter of...
The Curse. San Antonio may have four titles in the last nine seasons, but they've never won 'em back-to-back. And in each of the Spurs' last three title defenses - following the 1999, 2003 and 2005 seasons - they were ousted in the Western Conference Semifinals or earlier. And you know, history has a funny way of repeating itself. Unless I just pulled a reverse stat curse. Crap!
Platitudes. San Antonio Gregg Popovich said: "The bottom line is that the better team wins in a seven-game series. I've always said that. So whoever wins the series it will be because they're the better team." Note that he's "always said that." You think that, if his Spurs lose, he'll actually believe it?
Strategy session, Part I. New Orleans coach Byron Scott says his team has to approach the game with the official Sense Of Urgency (TM): "The best opportunity for us is really (Game 6). We've got to look at it that way. We've got a chance to close out the defending champions."
Strategy session, Part II. Chris Paul thinks the Hornets need to do, uh, something. "When you make shots and stuff like that, it helps a lot, but we just got to find some way somehow." Some way. Somehow. Sounds kind of easy, doesn't it?
Chris Paul and Tim Duncan. They are the two best players, and the best players usually cast the deciding vote in playoff elimination games. Bad news for the Spurs: Tim Duncan has been having a rough series, for him anyway. Bad news for New Orleans: Chris Paul doesn't have a lot of experience closing teams out, let alone in a hostile road game.
David West. I don't mean to toot my own tooter, but I called it. In my Game 5 preview, I said: "His Game 4 was both forgettable and regrettable: 10 points on 4-for-15 shooting. But that might actually be good news for the Hornets, since David has developed a habit of bouncing back from bad games." And did he ever bounce back: 38 points, 14 rebounds, 5 assists, 5 blocked shots. He was a one-man Death Star blowing up Alderan. And it was as if millions of Spurs fans suddenly cried out in terror, and were suddenly silenced. Here's the thing, though: West's back is hurting and he has another habit...of following up great games with not-so-great games. So don't expect a career-night from Dave in Game 6.