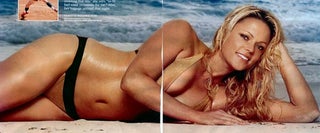 S
So, has Jennie Finch completely transformed softball from a sport once overtaken by rampant lesbianism to one more appealing to bubbly straight girls ? It depends. You can talk to one person and they'll tell you about how half the people they knew on their college and high school softball team wore their K.D. Lang haircuts with pride and always smelled like they just stepped out of the Vulva factory. (Link not safe for non-Vulva factory workers.)
Then, you have others who are trying everything in their power to destroy that notion by dilligently filling out a top ten list of "Next" Jennie Finches. You can all thank the Angry T for his progressive thinking after you take a look at

"Searching For The Next Jennie Finch at This Year's College Softball World Series," where he does the yeoman's work of objectifying teenage athletes for the purposes of advancing this theory.
If I were a still gambling man, I'd say that Adrienne Acton has herself a pretty bright future too.
Commence having anonymous conversation about this topic that some people would find appalling.
Searching For The Next Jennie Finch At This Year's College World Series [The Angry T]