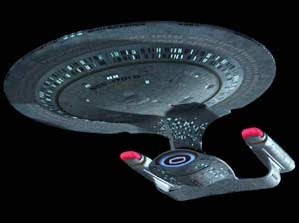 The NHL Closer is written by the five Star Trek: The Next Generation enthusiasts from Melt Your Face Off. When not attending conventions, they can be found in their makeshift Holodeck, where they practice putting the moves on a virtual Counselor Troi. Set your phasers to stun, Deadspinners, because Weed Against Speed has the Bridge.
If the Stanley Cup Finals were played out in the Star Trek: TNG Universe, one could say that Sidney Crosby, for the first time in the series, finally proved that his commission as Captain of the USS Penguin was fitting as he scored the first two goals in an incredibly entertaining 3-2 Pittsburgh victory over the visiting Detroit Red Wings.
The entire Q Continuum (NBC, Gary Bettman and the NHL) were very pleased with the outcome of last night's game. In support of Captain Crosby, Marian Hossa (2 assists) played the role of Commander William T. Riker and Adam Hall (goal) was Lieutenant Commander Data in this completely tired nerdy analogy.
The Penguins finally solved the newly-discovered ladykiller that is Chris Osgood late in the first period as Crosby scored the first goal for Pittsburgh in the series. The loyal fans in the Igloo rejoiced. And they were all wearing white, except for these douchenozzles. Crazy!