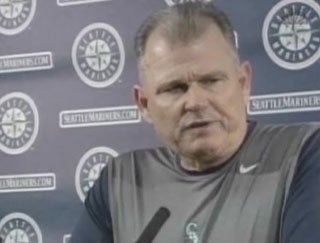 Ah, to return to the halcyon days of March 31, when the Mariners were 1-0 and all was right with the world. But today they're 18 games below .500, having lost four straight and 12 of their past 15. The latest, a 4-3 5-4 loss to the Angels, prompted manager John McLaren to spew some choice profanities during his post-game press conference. As you know, I love a good tirade: I use Ozzie Guillen's from last month as my ring tone. So enjoy this one, with video awesomeness following the jump.
I defy anyone to watch this and not say, "Reminds me exactly of my dad that time he had to bail me out of jail when I was a sophomore high school."
Sad to see the Mariners falling apart like this; on Wednesday morning team president Chuck Armstrong called a coaches meeting and reportedly ripped them all new ones. Then following the game, general manager Bill Bavasi ordered all players to stay by their lockers and answer reporters' questions on the loss (a mandate that Richie Sexson ignored). It's all because of the lesbian kiss, I tell you!