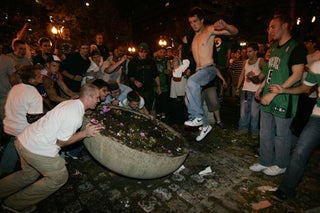 S

Boston-area sports fans are becoming immune to the exhilarating joy of winning championships. It was only a few years ago that the celebrations following a New England Super Bowl victory or a Red Sox World Series win would result in mass chaos: cars being set on fire, looting, young women being shot in the eye…
Now, the championship victories have become so commonplace that the overwhelming desire to DESTROY has been replaced by the more tepid celebrations of a city inured by consistent victory: flower pot tipping.
Boston police only arrested 14 people last night, most of whom were slapped with mild disorderly conduct charges for offenses ranging from window-smashing to knocking over newspaper boxes. If the Red Sox or Patriots win again, Bostonians may very well be reduced to even milder public celebrations; firing water pistols in the air, leaving the phone off the hook or plucking the wings off of Gypsy moths.
Thankfully, Complex magazine has assembled a retrospective for those of us who long for the sports riots of championships past in all of their firestarting glory-.
Police arrest at least 14 during Celtics revelry [Boston.com]