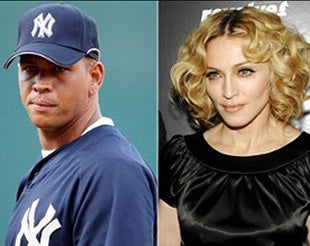 A New York man is claiming that he has a Madonna-Alex Rodriguez sex tape, and wants a million pounds for it. Of course, fundraisers are being organized furiously at this moment to pay the guy to burn all copies. Even Queen Elizabeth is chipping in with a few random palace jewels. Give till it hurts, people.
He is demanding a fortune for the footage he claims was shot with a hidden camera in an apartment allegedly used by the pair for secret afternoon trysts. Last night Madonna's lawyers said they were "aware" of the lensman's claims but were not commenting. Legal experts said there was no firm evidence the video existed.

In a series of emails fired off to media outlets, he alleged the footage was shot two months ago in an apartment owned by a pal of Madonna she knows through her devotion to the Kabbalah religion. The video man – who is also a friend of the apartment owner – claimed he found out and secretly installed a hidden camera in the living room with the lens pointed at the sofa.
If you pay in full by Friday, the man will throw in a St. Louis Rams walkthrough.
Well, Homo sapien has had a good run; pretty much an unbroken string of dominance since the invention of stone tools. But all dynasties run their course. Ours is scheduled to end any day now, as soon as this sex tape appears on Maury.
Madge In Sex Video Shock [Daily Star]