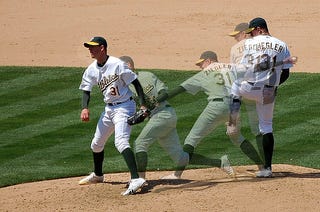 Finally, there's hope for Barry Zito. First, you need to sustain a couple of concussions ... look, it's complicated. But the upshot is that you change to a sidearm delivery. Then you, like the Oakland Athletics' Brad Ziegler, might one day break the major league record for consecutive scoreless innings to start a career. Ziegler, a reliever,
pitched two scoreless innings on Sunday
at the Coliseum to take sole possession of the record, with 27. That passed this man,
George McQuillan
, who by the look of things had a pretty odd delivery himself. McQuillan set the mark at 25 with Philadelphia in 1907. Ziegler vital statistics: • Has had two skull fractures; by a line drive in 2004 and again by a thrown ball last offseason. • He was released by the Phillies in 2003 and signed with the
Schaumburg Flyers
of the independent Northern League. He played there one season before moving to the Class-A Stockton Ports. The Phillies only gave Ziegler six innings in the minors before releasing him. • Even though he ranked second in strikeouts (144) in the California League in 2005 and second in ERA (3.37) in the Class-AA Texas League in 2006, minor-league pitching instructor Ron Romanick
asked Ziegler to become a sidearm pitcher
in 2007. "No, I absolutely was not open to it," Ziegler said. "I had just posted good numbers in consecutive seasons and was like, 'If that's not good enough, what do I have to do?' " • He's a blogger! Ziegler has authored
"Getting Ziggy With It"
at Athletics Nation since Jan., 2007. • Lived in the same dorm as the Phillies' Ryan Howard when both attended Southwest Missouri State, and also roomed with Howard at spring training in 2004. Too bad the Athletics can't keep any of their other quality pitchers around for more than a week.
A's Ziegler Took Hits On Way To Bigs
[SFGate]
Ziegler Sets Record In A's Win
[SFGate]