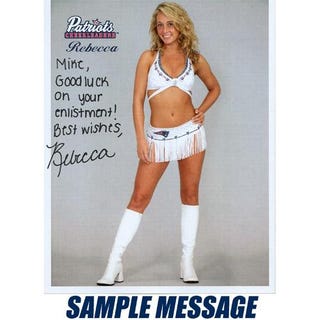 •
The Patriots aren't helping
: Remember the fresh-out-of-high school cheerleader on the New England Patriots that caused such a stir last year? Well, now you can get an autographed picture of her courtesy of the Pats. [
Busted Coverage
] •
NHL fans should be happy with this haul:
A Minnesota Wild jacket. A Manny Fernandez cap. A Chicago Blackhawks votive candle. [
Orlando Kurtenblog
] •
Hate the fact that your team loses? Sue them.
: "Yavor Bluskov, a fan of the soccer team CSKA Sofia, is suing the former president of his beloved club for almost $250,000. You see, it was owner Alexandar Tomov's fault that the team didn't succeed, thus resulting in the "immaterial damages and mental torment" alleged in the suit."[
Lion In Oil
] •
Ladies...
: Congratulations to Playing The Field: "It's a feature site for female sports bloggers. It's not a "We are women, hear me roar" type of thing."[
Playing The Field
]