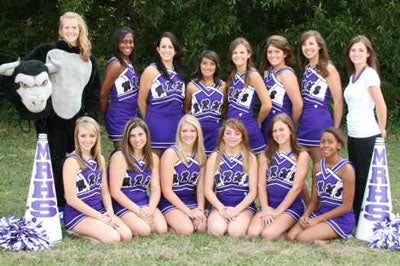 At least no one's mom killed anyone this time. Instead the lovely lasses of Morton Ranch High School are being investigated for, among other things, binding new cheerleaders and throwing them into the pool. Take it away anonymous cheer critic, "Once you duct tape someone's hands, blindfold them throw them in a pool, start flicking their body parts, that's way too far," she said. The Department of Justice disagrees. There are more details from ABC-13's investigation . Including this great paragraph of investigative reporting.
"When a girl (BEEP) in her pants and puts her pants on another girl's head, that's just disgusting," said the sister of a Morton Ranch High School junior varsity cheerleader.
Oh, a girl was (BEEP) in her pants? Well, we can't have that. Clearly. Because I love y'all, here's a link to the Morton Ranch cheer squad's January 2007 performance on
youtube
.
Did HS cheer squad go too far?
[ABC13.com]
HS cheerleaders give crap to JV squad-literally
[SportsByBrooks]
Morton Ranch High School Cheer performance
[Youtube]