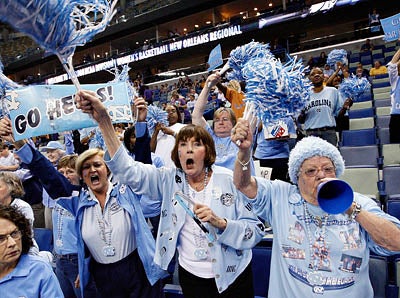 In a move that leaves every person who has ever been to a Cracker Barrel aghast, two people made off with $158 in merchandise from the old country store yet left behind the wheels of cheese, butter churns, and large checker board pieces that you played on a quilt. Instead they filched North Carolina (mostly) and Duke merchandise . Yep, this combines ESPN's favorite rivalry with Mike Patrick's favorite down home cooking.
They took a UNC Tar Heels water pitcher that sells for $29.99, a Tar Heel cookie jar worth $39.99, a UNC T-shirt ($19.99), a Carolina clock ($29.99) and a UNC platter and soft basketball ($24.98), according to an affidavit. The Tysingers are also accused of stealing a set of Duke beverage coasters valued at $12.99.
I'm confused, did the platter come with the basketball? It was a duo. And it was only $24.98? They should have stolen two. Mad props though on getting the Duke beverage coasters. That was close to throwing the cops off your trail. If only those new-fangled moving image cameras weren't around. At least a North Carolina jury will react favorably to thieves who won't even take sides in the rivalry. Or not.
Couple charged with stealing UNC, Duke merchandise
Cracker Barrel couple caught stealing UNC stuff
[SportsbyBrooks]