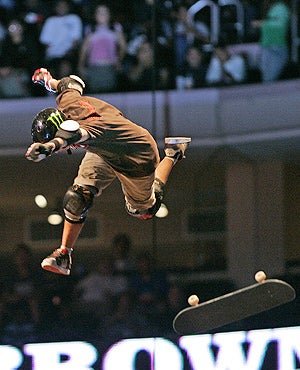 Tonight, the X Games begin their 14th season and what better way to promote that event than to look back at one of the most horrifying (if he died) but awesome (that he lived) moments ever witnessed in any sporting event. It was a year ago that skateboarder Jake Brown flailed and fell 46 feet after he lost his board during the big-air competition and thudded to the ground like a giant bag of sand . The LA Times revisits the incident :
"I thought he was dead," recalled Pierre-Luc Gagnon, a competitor and Brown's close friend. "At first I thought he was going to have compound fractures of both legs. I thought he was going to be paralyzed. "Then I rolled up to him and he wasn't breathing. He was completely out and I didn't know if he was still alive."
The Royal We's
dumbfounded reaction
to it last year was especially priceless: "We mean ...
his shoes popped off
. That happens during car wrecks." Barring a similar incident during these X Games, this will probably be the last it's talked about on Deadspin, unfortunately. Tonight: Find your own personal John Daly and revel in the Thirsty Thursday goodness. Tomorrow:we'll wrap up this Manny trade lunacy, run ESPN's "official" statement about the Erin Andrews story, and speak to the author of that piece Mike Nadel. Thanks, as always, for your continued support of Deadspin.
Jake Brown's 4 1/2 Story Fall Lives On In X Games Lore
[LA Times]