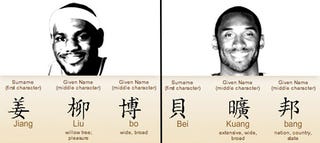 From now on, Damon Stoudamire will be referred to on this site by his Chinese nickname: Little Flying Mouse. Likewise Steve Francis (Special Rights), Carmelo Anthony (Sweet Melon) and Manu Ginobili (Argentina's Flying Man). Finally, something fun from the Beijing Olympics. Guess whose nickname is Little Emporer? Hint: He scored 20 points on Thursday as the
U.S. beat Turkey 114-82
in a practice game in Macau, the U.S. team's first game in China. NBA.com asked Chinese NBA fans to provide nicknames for their favorite NBA players, and the reasons behind them.
Here are the results
... I kind of like German Racecar for Dirk Nowitzki, because it's easier to spell. Meanwhile, Yahoo Sports has discovered
the Chinese Name Machine
, and has translated every U.S. player's name. Meet Kobe Bryant ... or as he is now known in China, Bei Kuang Bang. These are way better than
the nicknames they had been using lately
, by the way.
How Do You Say LeBron James And Kobe Bryant In Chinese?
[Yahoo Sports]
Chinese Name Machine
[The Hilton Family]
Chinese Nicknames For NBA Players
[NBA.com]
Ready To Pounce: U.S. Beats Turkey
[NBCSports]