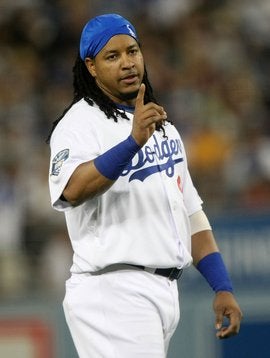 Manny Ramirez unveiled his "Manny-ness" (he wore the number 99) to his new fans in Los Angeles last night, but things didn't exactly go according to plan. With the Dodgers down by a run and with a man on base, Ramirez came up in the bottom of the ninth with a chance to add to his resume of late-game heroics. Diamondbacks reliever Brandon Lyon, however, got the newly-traded slugger to weakly ground out into a double-play and Arizona hung for the win. Said the winning pitcher, Randy Johnson: "That's a storybook ending right there—Manny getting traded here and coming up (representing) the winning run. But Brandon made some quality pitches and got the double play. He's done his job pretty well all year."
Jason Bay Quickly Earns Fenway Faithful's Love
: Unlike the man he was traded for, Bay's debut in Boston went exactly according to plan, as he scored the winning run in the 12th inning to push the Red Sox past Oakland. Jason also had himself a triple, and received a standing ovation from the Beantowners. Tampa Bay was able to maintain its three-game lead in the AL East over Boston, as they took care of the Tigers at home.
The Kid Comes to the Southside:
A nervous Ken Griffey Jr. - he hadn't eaten in about a day - showed up for his first day of work as a member of the Chicago White Sox, and collected two RBI's as Chicago beat Kansas City 4-2. Griffey also nearly hit one out of the park, but gravity had other ideas.