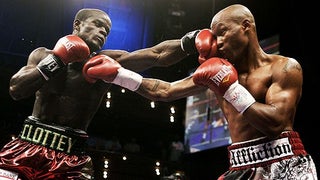 S
Personally, I blame Affliction. That douchey brand is intent on draping every fighter in that crap, and now it's forced Zab Judah's signature Star of David to a small space near the inseam of his shorts. And now Super Judah's career as a title contender is almost certainly over. Of course some crappy artwork didn't actually have anything to do with Joshua Clottey's victory for the IBF's welterweight title, but fuck, it certainly didn't help matters. Clottey was declared the winner by technical decision when a crescent shaped cut emerged over Judah's right eye. The fight was stopped in the ninth round when a potential TKO for Clottey was ruled an incidental butt referee Robert Byrd, meaning the judges would have the final say. In the end it was unanimous, albeit by a one-point margin, for the Ghanaian fighter. Judah remained competitive throughout the fight a result of his superior speed and athleticism, but more often than not he found his flurries stymied by Clottey's brick wall defense. When the new champion did come out from behind his arms he was able to bust Judah up pretty effectively, with punches and a few other tactics. A butt in the second round was also ruled incidental, and it resulted in the initial swelling of Judah's damaged eye. Additionally Clottey found countless opportunities to lean his weight on the back of Judah's neck. One such occasion took place in the fight's final round just before Judah complained to Byrd about another butt, to no avail. After the fight Clottey called out another one of my favorites, the undefeated and still untested Andre Berto. Perhaps Clottey was trying to pick a fight with a guy still in need of more experience because he already knew he'd injured his bicep earlier in the fight. It was earlier speculated that last night's winner would go on to face Antonio Margarito, although I'm sure Margarito's camp viewed either of them as an opportunity at an easy belt to add to his collection. •
On the undercard...
DC's Anthony Peterson is still undefeated following an easy decision over veteran Javier Jauregui on the Clottey-Judah
untelevised
undercard. Peterson was one point shy of winning the fight in a clean sweep of every round on every card, but his critics will still point out his inability to get rid of such an outclassed opponent. While they have a point about his questionable knockout rate, he remains an entirely entertaining young fighter on the precipice of title contention in a division that could be wide open pretty soon. That is, if Manny Pacquiao decides to step up weight once again, this time for a huge money fight with Oscar "Pay day" la Hoya. Yeah, that's not going to go well. •
Elsewhere in boxing
Vic Darchinian punished and bullied Dimitri Kirilov to retain his IBF super flyweight title. Darchinian may be all elbows at times, but he is a tough puncher who can dominate against second-tier fighters. He's still not in the top class of the flyweight/super flyweight divisions as we saw in his loss to Nonito Donaire. I tuned in late to this one but I did see the final round, featuring two awkward knockdowns before the stoppage.