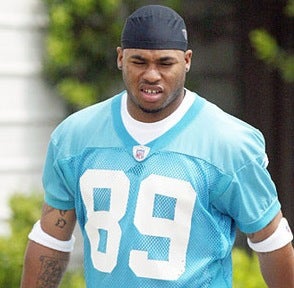 For once again releasing his inner Sonny Corleone, Steve Smith would like to apologize. As you know, Smith popped cornerback Ken Lucas in the eye during practice on Friday, with the resultant damage being: a broken nose that will require surgery for Lucas, and a suspension without pay for the first two regular-season games for Smith. Earlier today, Smith provided this mea culpa :
"I'm not going to get into who's right, who's wrong. I'm completely wrong," Smith said. "It was an asinine decision. And I'll move forward better than I probably have ever had to. It's the first time in my life that I really haven't forgiven myself." "I'm a fallen man. I'm a man that made a mistake," Smith said. "I plan to mend the bridges that I've burned and help rebuild the bridge, if I need to all by myself."
I know what you're thinking, but this is not at all classic abuser-speak. It will never, ever happen again, baby! Even so, my advice is for Lucas to stay in his
hyperberic chamber for a couple of weeks
.
'It Was An Asinine Decision' Steve Smith Says
[NBC Sports]