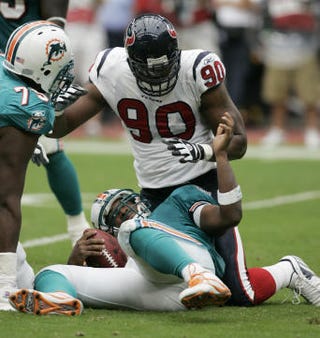 We're less than a month away from the start of the NFL season, so it's time to start the impassioned season previews from various writers, bloggers, diehard fans, cooks, TV personalities, and numerous other walks of life whom consider football the only sport worth watching. This year, the previews will be a little shorter, but will hopefully give us enough of a taste so that, come fall, we'll all be officially sick of previews. If you'd like to volunteer to write one for this year, please email me at ajd@deadspin.com There are still some teams in desperate search of an author.
Right now: the lovable Houston Texans. Your author is Matthew Campbell. Matt Campbell is the founder of
Da Good, Da Bad, and DeMeco
His words are after the jump.I get the question a lot. "Texans fan, huh," they ask. "How'd that happen?" As if I'd just told them I shit my pants. "How did you wind up following them?" They always stressed the "them" the same way I imagine Republican households do when referring to black people. I used to try to explain myself, but even I had to admit that it seemed strange on the surface. Eventually, I stopped trying and simply answered with a shrug. As any Texans fan will tell you, the true test of our fandom came on April 29, 2006, when the team drafted Mario Williams. On that day, the fanbase divided quickly into three distinct groups. There were those that loved the pick. I was in that group, along with about nine other people. There were those that hated the pick but were still loyal to the team. And there were those who said to hell with the team and let their fandom follow the Vince Young to the
Baby-Eating Sister-Fuckers.
(Note: This last group of people, along with all other Titans fans, can feel free to burn in Hell with the dark lord, Bud Adams.) To make matters worse for the groups who remained loyal, 2006 was anything but a fun year. Mario suffered an early foot injury and, though he played well, the Texans finished 6-10. Meanwhile, Vince Young was gently fluffed by the media and Reggie Bush made the playoffs, where he was
appropriately greeted by Sheldon Brown
. All season long, ESPN and other bastions of journalistic standards openly mocked the Texans' decision to skip the Two Surefire Guaranteed 100% Hall Of Famers in favor of The Biggest Bust In The History Of The Universe. But a funny thing happened on the way to the Hall of Fame. In 2007, Reggie Bush blossomed into a huge vagina too afraid to run between the tackles. (No offense to vaginas.) Vince took a step backward and was nothing short of horrific as a passer, possibly because he ate paint chips as a child. (Random side note, for those who will chime in with "Yeah, but Vince just wins games": Radio's career record: 17-11. "Choker" Rex Grossman's? 19-11.) At the same time, Mario took a gigantic dump in the mouths of those who doubted him, posting 14 sacks, including 3.5 on his Thursday night prime time debut, and dominating down the stretch, even as teams double- and triple-teamed him. For those who were in Mario's camp from the get-go, there is a feeling of satisfaction as we watch the rest of the world realize what we've known all along—Mario is better than Jesus. Those two guys we passed on? Please. There is no way Jesus Christ would have twice as many INTs and TDs, and, even in sandals, ol' JC could certainly average more than 3.7 yards per carry. (Hell, even Ron Dayne averaged more than 4 yards per carry last year.) But Jesus could never stop Mario Williams. Never. You walk on water? Great, see if that helps you with this swim move. Didn't think so. Jesus would have better luck trying to teach Vince Young to read. So, in the end, you can keep your overhyped Eric Metcalf clone, your poor man's Randall Cunningham, and your Almighty Lord and Savior. I'll take Mario.