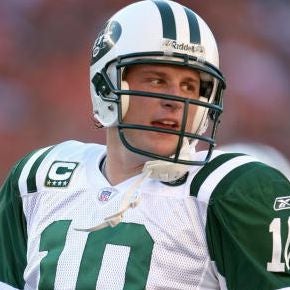 From the be-careful-what-you-wish-for department (it's right next to children's wear): The closure of the Brett Favre saga has opened the door for a piping hot helping of fresh quarterback speculation, starring Chad Pennington! This may shock those of you who thought that, after his release from the Jets earlier today, Chad would be vacuuming your floorboards down at Ducky's . But no; at least six teams are interested in him, according to agent Tom Condon. Among those? Your World Champion New York Giants.
Chad Pennington, released Thursday by the Jets, is apparently on the Giants' radar screen as they search for a viable backup to Eli Manning. They already have veterans Anthony Wright and David Carr on the roster battling for the job, but GM Jerry Reese didn't deny they might have an interest in the now ex-Jet.
Pennington is good friends with Manning, and the Giants
are still looking for a reliable backup
.
"I feel bad for Chad," Manning said. "I've known Chad for a long time. He's been a good pal of mine. I know he'll bounce back on his feet. Wherever he goes, he's going to have a good shot at playing and playing well."
Actually, the Giants may well be looking for a starter. Manning
didn't exactly light it up
in the Giants' preseason opener on Thursday, completing two of six passes for 19 yards in his only two series in a 13-10 loss to the Lions. He was 0-for-3 on New York's first possession, including two passes that were knocked down by linemen. I'm checking the record books now to see how many NFL teams have gone from first-to-Pennington in one season. I'll report back.
Source: Half Dozen Teans Have Contacted Pennington's Agent
[ESPN]
Eddie Johnson's 31-Yard Field Goal Pushes Lions Past Giants, 13-10
[New York Daily News]
Giants May Look At Chad Pennington
[New York Daily News]