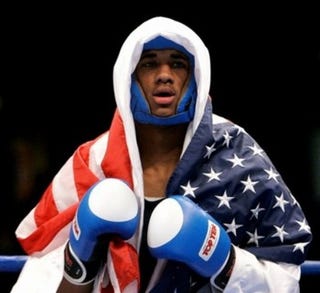 Olympic boxing is by no means an indicator of future success at the sport's professional level, although often times it does serves as a showcase for an elite athlete's rise to prominence. The biggest name to arise from the '04 Olympics was England's young lightweight sliver medalist Amir Khan, who immediately turned pro and has since become one of the sport's most promising rising stars. This time around the most promising fighter to come out of the games could be an American, and his name is Demetrius "Boo Boo" Andrade. Last night the 20 year-old '07 world champion made his Olympic debut in the opening round of the welterweight tournament with a not-so-narrow 11-9 victory over Georgia's Kakhaber Jvania (who just
can't
be excited to go back home) thanks in part to a snapping left hook late in the proceedings. I'm not going to bore you with the details of Olympic boxing's scoring system, just trust me when I tell you that it's pretty fucking annoying. The US team, while plenty talented, isn't anywhere near the famed class of '96 that featured such future pros as Floyd Mayweather Jr, David Diaz, Fernando Vargas, and Antonio Tarver. However, in Andrade they have a fighter who is quite possibly their best shot at a medal
and
future stardom. If you get a chance, take a look. •
Fear the Russian.
The most feared fighter in the Olympics has to be two-time defending world middleweight champion Matvey Korobov of Russia. The 25 year-old is favored to win gold, at which point he'll become a heavily sought after fighter in the pro ranks. Frankly, I can't wait to see the guy with my own eyes, because something tells me
YouTube
doesn't do him justice. •
Give me your tears!
Just like '04 the British team has put forward one of the competition's most entertaining fighters. While 18 year-old Billy Joe Saunders may not become the next Amir Khan, he does have people clamoring to see what he can do in a professional ring. Plus he's a gypsy (not to be confused with a
pikey
), and that's just fucking awesome. •
Introducing the World Kid.
Andrade isn't the only American with a serious future in the sport. One of the guys we could be talking about years from now is Brooklyn's own Sadam "The World Kid" Ali. The lightweight is alive in his tournament (unlike
Javier Molina
) and he could make some serious noise. Check out his promo video below via
Bad Left Hook
.
Just a reminder, boxing still isn't dead.