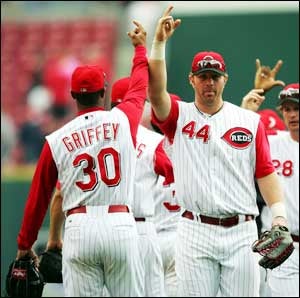 Despite assurances from CEO Bob Castellini that he is not rebuilding the team from scratch, it can't be denied that the Cincinnati Reds are very, very sick. Almost dead, as Miracle Max would say. It all began, in my opinion, when their jovial mascot, Mr. Redlegs, lost his head in a tragic ballpark ATV accident on May 14. The team was cursed. Since then, they've lost Ken Griffy Jr., and now Adam Dunn, who was shipped to the Diamondbacks late Monday. From the Cincinnati Enquirer :
It would be easy to assume, in the wake of the trade of Adam Dunn to Arizona, that the Reds are in a long-term rebuilding mode. But the team's chief executive officer, Bob Castellini, said Monday that's not the case. Asked if the team could win next season, Castellini said: "Absolutely." If that's the case, the Reds must win with a very different cast of players than the one they started with on Opening Day.
Fun facts about Adam Dunn: He's tied for first with with Ryan Howard of the Phils and Carlos Quentin of the White Sox for the major league lead in homers with 32; his 198 homers from 2004-2008 are second only to Alex Rodriguez (199); is fourth on the Reds' all-time home run list with 270, behind Johnny Bench (389), Frank Robinson (324) and Tony Perez (287). Griffey and Dunn were the two longest-tenured and highest-paid players on the Reds, and had combined for 70 home runs and 199 RBI last season. A likely starting lineup for the Reds tonight against the Pirates will feature no player over the age of 28. That looks like rebuilding to me. Cincinnati is 2-14 since July 25, including losses in the past six straight games. They're cutting their losses and (possibly) looking toward next year. Please turn to the Florida Marlins chapter of your textbooks for further details. Well, fortunately the Reds have a strong minor league system and help should be on the ...
uh oh. Um, never mind
. Meanwhile, another team with a baseball-headed mascot
isn't doing very well either
; specifically in the bullpen area. But we'll delve into that at another time.
Bring Me The Head Of Mr. Redlegs
[Deadspin]
Power Lost: Reds Retooling
[Cincinnati Enquirer]