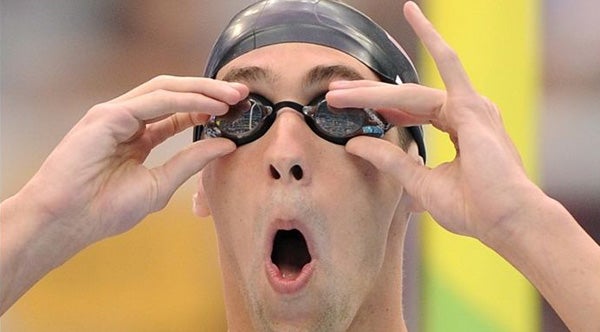 The goggles, they do nothing! Despite leaky specs in the first race of the morning — the 200 meter butterfly — Michael Phelps claimed his fourth gold medal of the Beijing Games. He then went on to capture No. 5 as the U.S. became the first team to crack the 7-minute barrier in the 800 freestyle relay. That's 11 golds overall in two Olympics for Mr. Phelps, breaking the record of nine held by four others, among them Mark Spitz and Carl Lewis, and, I believe, Aquaman. Note to Chinese: Phelps' wins were not digitally enhanced, nor was lip-syncing employed in any way. And now that he's the most decorated swim veteran in world history, let's take a closer look at our watery hero. Some fun facts from the Michael Phelps file: • He's a Michigan Wolverine. Suck it, OSU. • Baltimore native, grew up in the Rodgers Forge neighborhood and graduated from Towson High School. Other notable Towson High alumn ... Divine! • Has (or at least had) Attention-Deficit Hyperactivity Disorder, and became a swimmer to create an outlet for his energy. Was arrested for DUI at age 19 in Maryland. • Among those at poolside as Phelps won his 10th and 11th golds ... Kobe Bryant, LeBron James and Carmelo Anthony. James posed for pictures with Phelps' mom. • From Phelps' profile on the NBCSports.com Olympics profile page: Phelps appeared at the 1996 Olympic Trials as a 10-year-old, not to swim but to support his sister, Whitney. When she finished sixth in the 200m butterfly final and missed making the team, the family cried in the stands. "It left a scar on our family," Michael says. Whitney's career was cut short by four herniated discs, but Michael says he lives by her example. From the time he was little, he remembers how he would hear her door shut and the car start before dawn as she made her way to practice. Phelps' goggles malfunctioned during the 200, and he had to squint through water-filled lenses on the way to a world record, which he captured by six-hundredths of a second. The 800 free relay team broke the world mark with a time of 6:58.56, with Phelps swimming 1:43.31 in the first leg. Ryan Lochte, Ricky Berens and Peter Vanderkaay followed. The previous record of 7:03.24 was set by the Americans at last year's world championships. Russia took the silver, more than five seconds behind the Americans, and Australia won the bronze.
"I'm almost at a loss for words," Phelps said. "Growing up I always wanted to be an Olympian. Now to be the most decorated Olympian of all time, it just sounds weird saying. It started setting in a little bit after the butterfly. I was just trying to focus on my next race, but I just kept thinking, `Wow, greatest Olympian of all time.' It's a pretty cool title. I'm definitely honored."
Next up: The 200 individual medley, 100 fly and 400 medley relay.
Phelps Flies To Olympic Gold Medal Mark
[NBCSports.com]