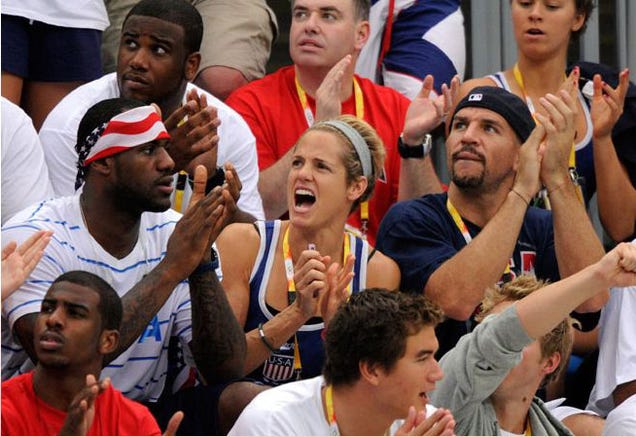 Highlights from Beijing, where today's weather forecast is dark and sneezy, with a chance of afternoon soot ...
I'm on record as saying this before the Games even started: Just try and keep the U.S. men's basketball squad away from the Water Cube. Here we see King James, Kidd and 10-time Olympic medalist Dara Torres cheering for U.S. swimmers Eric Shanteau and Scott Spann in the semifinals of the 200 breaststroke on Wednesday.
Spann had the third-best time
at 2:09.08. But we can withstand a third-place finish, because any day with a
Dara Torres sighting
is a good day.Meanwhile, in other non-Phelps swim news, Ryan Lochte and Aaron Peirsol set up a rematch in the 200 back, qualifying 1-2 in preliminary heats in 1 minute, 56.29 seconds and 1:56.35, respectively. They share the world record of 1:54.32. Lochte also earned a berth in the 200 IM final, winning his heat in 1:58.15. •
This Is Why They're Canceling Softball After These Olympics, You See
. The U.S. threw its second consecutive no-hitter, dominating the Olympic softball competition like Germany dominated Lichtenstein in 1941. Cat Osterman struck out 13, including eight of the last 10, as the U.S. beat Australia 3-0. In three Olympic decisions dating to 2004, Osterman is 3-0 with a 0.00 ERA. Now
this
is how the U.S. men's team should be dominating in basketball. •
The Olympics Are Bad For Your Groin
. Or so says
With Leather
. •
Nigeria, Please
. The U.S. men's soccer team eliminated by Nigeria, 2-1. Where's Hirshey to make sense of all of this? In a clear case of Soccer Rage, the U.S. was playing without central midfielder Michael Bradley and midfielder Freddy Adu, who have both been suspended. And in the fourth minute on Wednesday, defender Michael Orozco was ejected for elbowing forward Solomon Okoronkwo. •
Oops. My Bad
. In a mistake that the ever-forgiving Chinese government will have no problem with whatsoever, rower Zhang Liang, China's national single sculls champion, showed up for the wrong heat on Saturday and was disqualified. He was a favorite to win the gold medal.