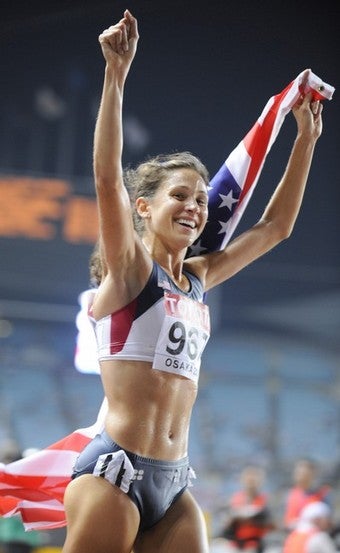 The sinewy young lady in this picture is Kara Goucher, who will be representing the U.S. in both the 5,000m and 10,000m in Beijing. She's a pleasant, friendly woman, who's been "writing home " about her Olympic experience for the Duluth News Tribune. She had an amusing little anecdote in her entry on August 10:
Then we had a two-hour wait until we actually marched in. At this point, athletes started mingling and I met [USA men's basketball players] Carmelo Anthony, LeBron James, Kobe Bryant and Jason Kidd. I got my picture with all of them. They were all very nice and asked me about running track. One of them actually ended up asking for my number, and chatting me up for a while, and got out his camera to take a picture with me, but that's a story for another time."
Well, Goucher is married and probably wasn't interested anyway. But somehow Voucher's friendly, aw shucks, starstruck-vibe indicated to one of our Redeem Team superstars that she was open for business. It's probably
Jason
Kidd
, who's just amazed that any woman not legally required to stand 500-yards away from him and who doesn't slap him in the face after thirty seconds of smalltalk is probably interested in more than a picture and a friendly chat about "running track."
Goucher writes home about life as an Olympian
[Duluth News Tribune]