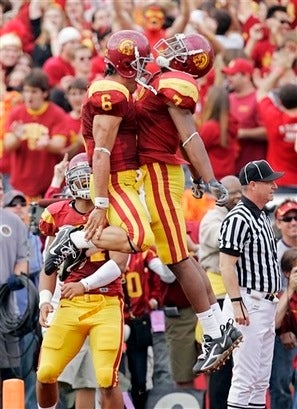 Jock itch is actually the
subject of their article
. ESPN is so pissed that somebody else gets to write about USC's genitals. Expect a full-hour feature on Mitch Mustain's ballsweat on College Football Live tomorrow. Until then, we all feel tailback Travon Patterson's pain: "It burns," he told the
LA Times
. Going deep undercover, the paper reports:
While dislocated kneecaps and high ankle sprains draw more attention, Coach Pete Carroll said he has never seen anything like the minor outbreak that caused key players to miss practice Wednesday. As much as 25% of the team has been affected by the apparent run of tinea cruris, kicker David Buehler estimated. The condition seems to have spread by way of new compression shorts, or tights, worn under their football pants.
Am I the only person who's itching after reading that article?
Trojans have a little problem
Has Leinart returned to USC
[With Leather]