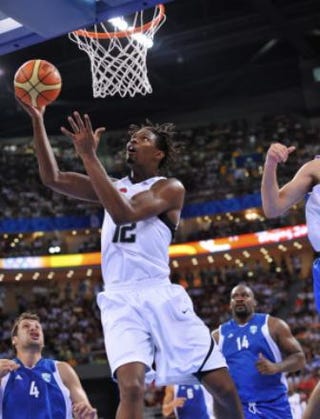 This was supposed to be the first true test for the Redeem Team: Facing off against the Greek team that Clubber Lang'ed them in the semifinals of the 2006 FIBA World Championships. How big a deal was it to the American players?
Carmelo Anthony said he's had this game circled on his calendar for two years
. Turns out that revenge is pretty good motivation for a "flawed" team that can't hit the three, struggles in halfcourt sets, and has - made that
had
-
a struggling superstar
.Team USA answered a lot of questions with this game. Could they stop the pick and roll? Yup. Could they bust the zone? Yup. Could they score inside? Yup. (Chris Bosh had 18 points on 7-for-8 shooting.) Could Kobe Bryant get it going? Yup. (Mamba/Doberman had a co-team-high 18 points on 7-for-14 shooting.) Could they utterly dominate a team that was supposed to be aggressive, disciplined and an actual threat to unseat their quest for the Gold? Yup, yup and yup. The Greeks actually led 13-9 late in the first quarter. But hey, Leonidas and those 300 Spartans had a pretty good showing against the Persian army...for a while. From that point forward, the Redeem Teamers clamped down on D (forcing 25 turnovers and holding Greece to 41 percent shooting) and executed on O (shooting 54 percent). They were up 51-32 at the intermission, and the lead never fell below 16 in the second half. The final score: 92-69. So much for the big challenge. What can we take from this game? Maybe that it doesn't really matter how flawed a team is as long as it has the better players and those players are highly motivated to win. Maybe they won't win by 50 points per game like the original Dream Team...but as long as hubris doesn't overcome them, I can't see any of the remaining teams putting an end to Team USA's gold rush. The next
victim
challenge: The undefeated (
and slightly racist
) Spaniards on Saturday.