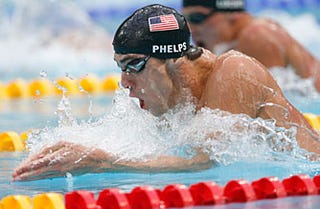 The surgeon general is frantically trying to keep a lid on the latest story out of Beijing, in which Michael Phelps has revealed his daily diet. He won gold medal No. 6 on Friday — in the 200-meter individual medley — leaving him one away from Mark Spitz' record with two races to go. And he has 12 golds overall, a record. But what powers this God of the sea? Surely a diet of kelp, raw fish and the occasional Jamba Juice with energy boost. Um, no. Phelps' daily intake is more what you'd expect Jack Black to be eating.
Phelps' daily diet
, from the London Times: • Breakfast: Three fried-egg sandwiches loaded with cheese, lettuce, tomatoes, fried onions and mayonnaise. Two cups of coffee. One five-egg omelette. One bowl of grits. Three slices of French toast topped with powdered sugar. Three chocolate-chip pancakes. • Lunch: One pound of pasta. Two large ham and cheese sandwiches with mayonnaise on white bread, plus 1,000 calories of energy drinks. • Dinner: One pound of pasta, an entire pizza and even more energy drinks. Estimated calories: 12,000. Gaseous index: High. All that's missing are the little chocolate donuts of champions. Young swimmers throughout the nation are now jumping up from their computer screens and heading to Denny's. It won't be long before all members of the U.S. Junior National team
look like this
. America, the most buoyant team in the 2016 Olympics. Phelps competes Saturday morning (tonight, ET) in the 100 butterfly finals. He is then expected to swim Sunday with the U.S. men in the 4x100 medley relay finals, shooting for gold medal No. 8. Ryan Lochte won his first individual Olympic gold medal earlier in the morning, beating U.S. teammate Aaron Peirsol in the 200 backstroke. Rebecca Soni won the 200-meter breaststroke, over Australian favorite Leisel Jones in a world-record 2:20.22. Buurp.
The Michael Phelps Diet: Don't Try This At Home
[London Times]
Phelps Sets Record In 200 IM For Sixth Beijing Gold
[CBSSportsline]