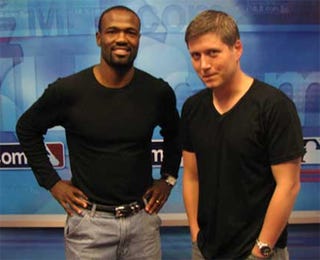 Listed in order of start time...
Little League World Series: Pool play.
Players will not be permitted on the field within one hour of their last meal.
ESPN, 11 a.m., 1 p.m., 6 p.m. and 8 p.m.; ABC, 3:30 p.m.
Tennis: ATP Tour, Legg Mason Classic, semifinals
. They still play tennis while the Olympics are going on? I guess Andy Roddick has to keep busy somehow.
ESPN2, 1 p.m
.
PGA Tour, Wyndham Championship, third round
. Throw your clubs at the TV!
CBS, 3 p.m.
Baseball: Los Angeles Angels of Southern Orange County Proper at Cleveland, Chicago White Sox at Oakland, or Seattle at Minnesota
. Games may not be available in your native language.
Fox, 3:30 p.m.
Motor sports: NASCAR Nationwide Series, Carfax 250, pole qualifying.
And yet some of these cars will still find a way to crash.
ESPN2, 3:30 p.m.
NHRA Powerade Drag Racing Series, Toyo Tires Nationals, qualifying, at Reading, Pa.
Do not pass GO, do not collect 200 dollars.
ESPN2, 6 p.m., same-day tape.
Baseball: Chicago Cubs at Florida
. It's Adopt-A-Cuban Night!
WGN, 7 p.m.
Bull riding: PBR World Cup, at Chihuahua, Mexico
. Starring the voice of George Lopez. Seriously, how the fuck did that movie ever get made?
Versus, 9 p.m.