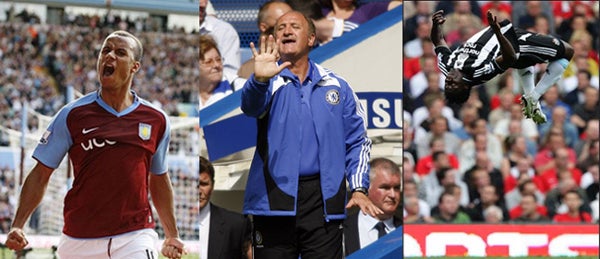 S
Big Phil Scolari's first Premier League match at the helm of Chelsea was pretty much perfect. The Blues began their campaign to reclaim the the league title with a 4-0 thrashing of Portsmouth at Stamford Bridge. Harry Redknapp's side was under constant pressure from Chelsea's reworked midfield, and the Pompey back line was breached with regularity. Joe Cole was the first to do such 12 minutes into the match. His run perfectly coincided with a slick touch from Michael Ballack, and Cole had little trouble getting it past David James. Anelka was second on the score sheet when he rushed the goalie's line to power in a header off of Deco's deft cross. Lampard scored the third goal of the half on a penalty following an unlucky hand ball on Portsmouth. Fittingly, it was Deco who added the final dagger when James was unable to deny his blast from distance in the second half. The newly acquired midfielder was one of two Portuguese players to make stellar debuts for Scolari. The other was right back Jose Bosingwa, he of the children's size medium jersey. Ballack went out with an injury late in the first half and was replaced by Malouda, while Drogba and Essien watched in street clothes. As for Peter Crouch's Portsmouth debut? He touched the ball a couple of times. •
That could have gone better.
Newcastle provided the stunner of the weekend, earning a 1-1 draw against the defending English and European champions at Old Trafford. Obafemi Martins hung in the air to put home a corner with his head to give the Magpies a stunning first half lead, but the Reds answered moments later when a Giggs cross was put home by new Darren Fletcher. However that was the end of the scoring for the day, despite good efforts on either side. Manchester was playing without the injured Ronaldo, and Tevez, who is in Argentina on bereavement leave. Jonas Gutierrez impressed Newcastle fans with a fantastic debut in the Premier League, and goalie Shay Given was equally impressive in net. Manchester tightened the screws late in the contest, but they were never able to get one past the keeper. Their last chance came when Rooney lined up a kick following foul just outside the box in stoppage time, only to see it fly past the post. •
Agbonlahor!
Aston Villa put their unsettling offseason behind them with a dominating 4-2 performance over Manchester City at Villa Park. Gabriel Agbonlahor netted a hat trick for the Villains, scoring all three goals in a spectacular stretch of just under eight minutes. The other goal came off the head of Carew via a cross from Ashley Young. Elano beat Villa's familiar new keeper Brad Friedel from the spot for one of City's goals, the other came from Corluka in the game's waning minutes. The game is airing on tape delay on Fox Soccer Channel if you want to see some scoring.