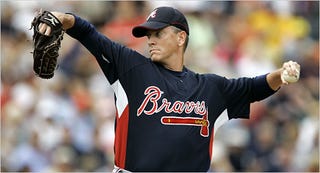 Tom Glavine is out for the season.
Dude
tore up
some ligaments in his elbow and says he won't come back if he has to get that ligament completely replaced. The 42-year-old went back to the Braves, turning down more money from the Mets to play where he had kept his offseason home. But he hasn't played well this year; he's 2-4 with a 5.54 ERA in 13 games, and it might be time for that tryout with the Thrashers that he's always wanted. •
Ken Griffey, Jr. has yet to stifle the hopes and dreams of the Chicago White Sox
, who still share a lead in the AL Central. Most people remember the pennant-racing that the Mariners enjoyed after Griffey left Seattle, and one can't help but wonder if Junior, who was given away by Cincinnati for pennies on the dollar, will fit into a clubhouse not concerned with bending to his frivolous wishes. But
so far, so good
for the Sox, actually, as they beat Oakland in Saturday action, 2-1. The Sox share the division lead with Minnesota. •
Roy Halladay pitched a complete game
for the Blue Jays, his eigth, as
Toronto rolled
past Boston Saturday night, 4-1. He's now 10-4 in his last 16 starts, and the object of affection to women everywhere.