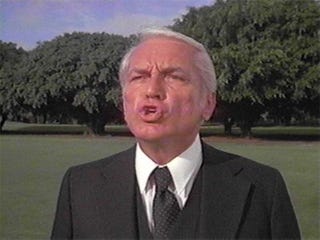 Listed in order of start time:
12 PM
Little League World Series: Pool play.
I want this entire pool scrubbed, sterilized and disinfected!
ESPN Classic, noon; ESPN2, 1 p.m., 6 p.m. and 8 p.m.; ABC, 3:30 p.m.
1 PM
MLB: Chicago Cubs at Florida.
Quick, what rhymes with Florida?
WGN.
2 PM
Golf: Nationwide Tour, Xerox Classic, final round.
I hate corporate sponsorship of golf. I hate corporate sponsorship of golf. I hate corporate sponsorship of golf.
ESPN. Stuff With Motors: MotoGP World Championship, Grand Prix of the Czech Republic, at Brno.
Get out your Pilsner Urquell and Jaromir Jagr jerseys if you have 'em.
CBS, same-day tape. Stuff With Motors: NASCAR Sprint Cup, 3M Performance 400.
If you're drivinig in to see the race from more than 200 miles away, that's kind of a waste of time, isn't it?
ESPN.
3 PM
Golf: PGA Tour, Wyndham Championship, final round.
In Greensboro, North Carolina. The entire golf course is nothing but left turns.
CBS. Tennis: ATP Tour, Legg Mason Classic, championship match.
No gold medals. Just cash. That's cool. Cash is easier to pawn.
ESPN2.
4 PM
MLB: Milwaukee at Los Angeles Dodgers.
It's more hip if you don't start watching until the third inning.
TBS.
8 PM
MLB: Philadelphia at San Diego.
Do we know anybody live-blogging this game?
ESPN.