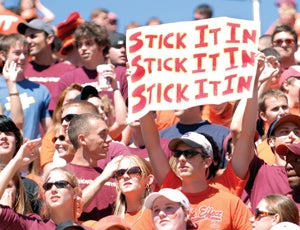 We're rolling through the top 25 of the coaches' poll. Today's first preview is the Virginia Tech Hokies. Brought to you by deadspin commenter, FrankBeamersGoiter. Known in the real world as Jonathan Dean. Ten days to college football kickoff.
Loud whispers out of Blacksburg mention that Sean Glennon could *FINALLY* have that elusive Breakout Year, but pretty much every fan knows it will just end up being a venereal disease. The fifth year redshirt senior might be the greatest practice QB in the history of Virginia Polytechnic Institute & State University (sorry Don Strock). But once he takes a hit, bad things happen. When the offense is already too young and has to pull running backs off the street due to two-year starter Brandon Ore hanging out with coke dealers and not working at 7-11 in the offseason instead to motivate himself, a good senior QB with three years of starting experience could keep things together. Instead, he makes watching two buffalo fornicate in the dark look entertaining. Sorry to be bitter, but his ineptitude contributed a large part to single-handedly squandering the greatest class of wide receivers that Tech has ever attained. The running game has been VT's bread-and-butter for as long as I remember. That was back in the late 80s/early 90s when kids got in free to watch them possibly win a close game against Bowling Green. Fifteen straight bowl games and not too many bowl wins later, Virginia Tech treads water somewhere between relevancy and overrated. However, something strange has happened of late. The running game stopped functioning. Offensive Coordinator Brian Stinespring acts like Sean Payton after finding some Southwest Virginia meth and tries to run a dual-QB spread offense system when clearly the personnel are not present to run it. It does not take a UVA-Charlottesville diploma, or even a UVA-Wise one, (even though VT's engineering program is much better) to figure out that their success depends on a mobile QB (sorry Jim Drunkenraper). From Maurice DeShazo to the new hotness, Tyrod "T-Mobile" Taylor, this has been the type of player to bandage the leaky sieve that is the offensive line or pick up the slack when your running backs and wide receivers might have just picked up their high school diplomas. Jahre Cheeseman stands alone as the next tailback to hopefully get this rushing offense back in gear, and with the help of a more experienced offensive line (or maybe Tyrod just makes them look better?), the offense might give fans something to look forward to this year. Just keep the clipboard in Glennon's hands. Scheduling-wise, the Fighting Gobblers and fans could be in for a rough year. Ballgames against Furman, Western Kentucky, and Duke are locks. It's too bad every road game is in question, which includes trips to old buddy Butch and his band of miscreants, Nebraska, the Boston Jesuits, Free Shoes University, and The U. Whenever the Frenchies from Exit 118 on I-64 play the team off Exit 118 on I-81, it's basically a lock as well since Al Groh is more concerned with tucking in his sweatshirt, churning assistant coaches, and recruiting future draft picks since they play in that 3-4 thingamajig. That said, I am a big fan of
www.dontfirealgroh.com
. At least, he isn't the highest paid state employee in Virginia anymore; the usurper lives in Blacksburg. The Commonwealth Cup is getting dusty over here, but that could be because Brandon Ore left town. The Hokies somehow have always exceeded expectations when there were little. My extremely cynical projection puts them with a 9-3 regular season record and another trip to the ACC Championship Game due to the ACC being the ACC. That game will be against Climpson or Wake Forest, who they fortunately dominate. So, another BCS game could be in their future, but an actual win is another matter. But everyone should look on the bright side: if Matty Ice did not pull that Thursday Night comeback last year, Sean Glennon would have started at QB in the BCS National Championship Game.