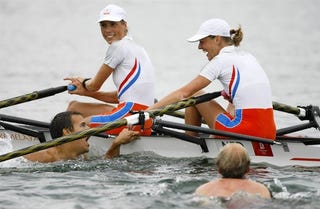 Your Olympic highlights from only moments ago or yesterday, depending on your time zone ...
Chinese police guard the land events like dobermans on Red Bull, but evidently they consider 10 feet from shore international waters. No sooner had Marit Van Eupen and Kirsten Van Der Kolk of the Netherlands won gold in lightweight women's double sculls, than two fans stripped to their underwear and swam out to congratulate them. No one tried to stop them, and what's more, they swam back, got dressed, and rejoined the crowd. A shocking breach of security, considering that these guys could have been packing anything, from a Free Tibet sign to a torpedo. For his trouble, one of the fans
got this lovely parting gift
. Ha. Classic.•
Run, Jump, Run, Jump, Run, Jump
. The U.S. pulled off the first medal sweep in men's 400-meter hurdles since 1960, as Angelo Taylor won the gold in 47.25 seconds, followed by Kerron Clement and Bershawn Jackson. •
Ejections In Olympic Baseball?
Jim Lefebvre — he's been coaching the Chinese team for five years, as you know — was tossed along with two players during the United States' 9-1 win on Monday. Ah, Lefebvre, could it be only two weeks ago
that you were saying this
? Jake Arrieta struck out seven in six innings Monday night and Taylor Teagarden and Nate Schierholtz each hit two-run doubles for the U.S. China's top player, catcher Wang Wei, was knocked out of the game with a left knee injury following a collision at the plate with Matt LaPorta in the fifth. This began a beanball war, which resulted in China calling in all of our loans. •
Liu Xiang, Adieu
. Much rending of garments and gnashing of teeth as Liu Xiang — the Michael Phelps of China, or so I'm told — was forced to
withdraw from the 110 hurdles
due to an Achilles injury. •
But There Is Something You Do Not Know. I Am Not Left-Handed
. After two upsets, the U.S. men's saber team ran out of luck. But it was still good enough for a silver medal. First it upset second-seeded Hungary in the quarterfinals, 45-44, and then eliminated third-seeded Russia on the final touch, 45-44, to make the gold-medal match. But top-seeded France was too much, winning 45-37. The U.S. was seeded seventh. •
It's Individual Apparatus Time
. Alicia Sacramone came close but failed to medal in the women's vault, this time successfully avoiding an interview with Andrea Joyce, so that's something. Shawn Johnson of the U.S., the all-around runner-up, was second again in the floor exercise, to Sandra Izbasa of Romania. America's Nastia Liukin took the bronze. •
Olympic Tennis! ... Hello? Is This Thing On?
Rafael Nadal of Spain beat Fernando Gonzalez of Chile, 6-3, 7-6, 6-3, in the men's singles final (sorry, no Roger Federer). In women's singles, Elena Dementieva of Russia beat teammate Dinara Safina, 3-6, 7-5, 6-3 (Sorry, no Williams sisters). Serena and Venus did win doubles gold, however, by beating Anabel Medina Garrigues and Virginia Ruano Pascual of Spain, 6-2, 6-0.