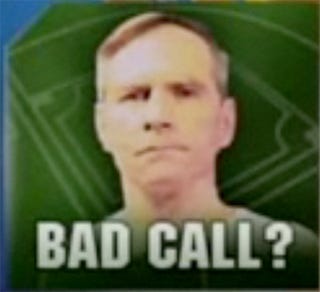 Nothing gets a suburban small town more in a tizzy than when a "noted sex offender" moves into the neighborhood. All the rehabilitation and prison time in the world can never convince overly- protective parents this monster will ever be available for car-pool or babysitting duties. Granted, regardless of some town's overly paranoid,
Little Children
-like reactions to sex offenders setting up residence in their town post-prison time, the people of Torrington Connecticut may have a right to be puzzled by their town's " Board of Approved Baseball Umpires" handing convicted sex offender
Tom Barbero its lifetime achievement award for his 28 years of service
to youth baseball. Barbero was sentenced to four years in prison and 35 years of probation after police accused him of sexually assaulting three teenage boys in 1994 and 1995.(The AP article notes those boys Barbero supposedly assaulted were not youth baseball players. See? He's not even
interested
in athletic-types. Calm down people!) That still won't placate Torrington's angry mob. As one seething Torrington
resident put it
, "I couldn't imagine having my son around that kind of a person at all and then to give him an award… it's just disgusting." The Torrington umpires group says it knew about Barbero's record but honored him anyway because "he deserved recognition." Maybe they can post his certificate award on telephone poles around town and place it in the mail boxes of Torrington residents to better commemorate his achievement?
This Guy Must Have Been One Heck Of An Umpire
[The Sports Point]