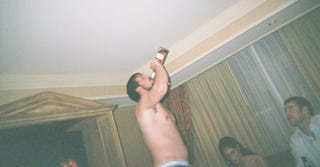 In the past hour there have been no less than three emails with "The Neckbeard Returns!" as the subject line. This is either a bold move or an absolutely desperate one, but it's true:
Kyle Orton is the starting quarterback for the 2008 Chicago Bears' season opener
. Orton overcame Rex Grossman in the "open competition" portion of the Chicago Bears training camp, edging out the starting spot thanks to a pre-season campaign which was not exactly eye-popping, but moderately un-Grossman like. Perhaps it's both fitting and fateful that this announcement comes while Deadspin is in the middle of Hall of Fame nominations. Orton was an
inaugural member
of the esteemed Hall of Fame class of 2006. God is with him. Monday is dead and gone. More nominees tomorrow plus two more NFL season previews, college previews, and assorted cultural ephemera from this thing they call "sports." A.C. was good. Thank you for asking. And, of course, thank you for your continued support of Deadspin.
Quarterback derby is over for now as Orton edges Rex for starting spot
[Chicago Sun-Times]