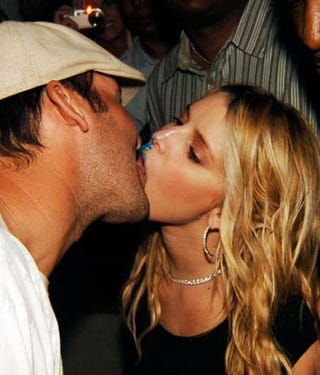 We're less than a month away from the start of the NFL season, so it's time to start the impassioned season previews from various writers, bloggers, diehard fans, cooks, TV personalities, and numerous other walks of life whom consider football the only sport worth watching. This year, the previews will be a little shorter, but will hopefully give us enough of a taste so that, come fall, we'll all be officially sick of previews. Today: The Hard Knock'd dicks of Dallas. Your author is Mike Fisher.
Mike Fisher, for 18 years a Dallas-based sportswriter and radio talk-show personality, covers the Dallas Cowboys and the Dallas Mavericks and whatever else he damn pleases at his
DallasBasketball.com
. "Fish'' is the bastard behind the Charles Haley "
Bananas
'' entry in our (soon to be returning) "
Dark Side of the Locker Room
'' series. His words are after this active verb.I thought about recruiting Howie Mandel to co-host this Cowboys preview but I was concerned I'd touch him and aggravate his Mysophobia (which, by the way, sounds like a fake disease as voiced by those hi-LAR-ious Spanish basketball Olympians). So I'll do it myself: The 24 Reasons The Dallas Cowboys Are Going To The Super Bowl – "Deal Or No Deal''-style. As models, we've employed female members of the America's Team Family: Sarah Shahi ("The Sopranos''), Wade Phillips' daughter (burlesque!), Jessica Simpson (sitting on her father's lap, at the creepy insistence of Papa Joe himself), Kim Etheredge (T.O.'s former PR voice, in all her eye-rolling, gum-popping, split-ending brilliance) and assorted painted hussies now taking turns as active Dallas Cowboys Cheerleaders. "The pick of the litter,'' as Jerry Jones once termed them. Strap it on: The 24 Reasons The Dallas Cowboys Are Going To The Super Bowl: 24: Despite a four-decade involvement in Texas football, the Cowboys are saying farewell to that grand, fun, bloated, gray-topped football dinosaur. Yep, this is the final season. 23: Oh, and in addition to angling toward dumping Coach Wade, they might be saying farewell to Texas Stadium, too. Ba-DUM-dum. Seriously, the avuncular Phillips has proven to be the idyllic antidote to InfalliBill Parcells, who certainly contributed to the rebuilding of the franchise but who is also certainly the evil that drove T.O. to an "accidental'' suicide attempt. (Now it can be told: Mary Kate Olsen's tragic FBI-protected secret? Bill Parcells killed Heath Ledger.) 22: Meanwhile, the Cowboys, storybook team that they are, will not lose the final home appointment at their venerable hole-in-the-house. God will watch – as will most the rest of the distracted or dysfunctional former contenders. 21: Consider the wobbly field: Green Bay? Brett's a Jett. Philly? Andy Reid's busy taking parenting tips from Hulk Hogan. The Giants? Even with their title, they speak as if they are burdened by a nasty case of Dallas Envy. (See Briefcase No. 3.) 20: The movie "Pineapple Express'' coins the phrase "God's vagina.'' God, of course, does not have a vagina. God is manly. And He loves His Cowboys. The opening in the roof is not a viewing mechanism, however. It is in fact Heaven's glory hole. Says so in the Bible. Corinthians, as I recall. 19: Anyway, no, the Cowboys won't lose their Goodbye Game. And that final game will be for the NFC championship. 18: And in case you are getting sick of Cowboys championship games (counting conference, league and Super Bowls, they've played in 27 of them in 40 years, crowding all 27 within the 29 years from 1967 to 1996), well, maybe by now you should've built up some sort of immunity? I mean, 40 years, and you're still getting sick every Sunday? Call your doctor. Stat! ("Stat,'' by the way, is used by TV doctors and maybe real doctors as a shortened version of "statim,'' Latin for "Hurry, drug him up, check him out and bill him high. Tee time approaching.'') 17: Skip Bayless will squeal that the Cowboys won't qualify. The next day he'll whine that they will. He will do both while serving as the intersection of the creepiest "What If Movie Villains Fucked'' offspring of all time: If Margaret Hamilton's Witch did the deed with William Dafoe's Green Goblin, the love child would be Skip Bayless. Skip looks like those recent no-makeup photos of Madonna, except somehow he accomplishes the feat by wearing MORE makeup. Plus, when he gets to talking nonsensically about things which he knows nothing about (a solid bet: If you asked Skip to throw you a football, he would not know which arm to employ), he sounds a bit like Clara, Aunt Bea's uppity best friend/rival. What makes it all so disturbing is that once upon a time, Skip had decent access to the Cowboys. Cranked out books. Made dough. Nevertheless, everything he touched turned to gay. And now? He's a product-of-Dallas Cowboys-hater who combines everything that is wrong with Margaret Hamilton/Green Goblin/Madonna/Clara. Combine All That Is Skip with your morning coffee, and ESPN is essentially allowing you to drop acid electronically, dude. 16: Back in the spring, Pacman Jones visited Dallas on a recruiting trip of sorts. It occurred to his entourage that they might want to attend a Mavericks game. In a Zelig-like moment, it was MY entourage (such as it is) that procured tickets for Pac's pack. Yes, we made it rain. … Mavs tickets! We spent part of that evening with Pacman, and he was unfailingly polite, surprisingly short, and, according to my diagnosis, sort of an idiot savant: His social discomfort is trumped only by the brilliance he ensuingly exhibited on the Cowboys' practice field in Oxnard, where he was once again polite, short and savant – almost Deionesque, really. 15. Pacman does have one on-field flaw, however. "I'm blind. Real blind,'' he said at camp, explaining why he is red-eyed and experimenting with tinted prescription Nike contacts lens. (Is there anything Nike's doesn't make? What's next? Nike cereal? Nike cars? Nike condoms?) Blind, eh? Legend has it that hanging out at strip clubs can lead to that. And to hairy palms. 14: When Marion (The Barbarian) Barber was told of the NFL's plan to outlaw the offensive player's stiff-arm to the facemask, he barely looked up from his reading material while replying, "What about to the throat?'' 13: A couple of days ago, Dallas Stars hockey standout Mike Modano told me of his plans to celebrate his eventual retirement by gliding straight onto the Pro-Am golf circuit. I asked him if he could beat the top three names that popped into my head: Actor Jack Wagner, former baseballer Rick Rhoden, and of course, Modano acquaintance Tony Romo. Replied Mo: "Wagner's getting fat, Rhoden's getting old, and any day of the week, I'll kick Tony Homo's ass.'' The comfort level of the Cowboys QB is such that he: a) spent camp "experimenting with throws,'' b) has learned to deal with the fact that dating a starlet means you'll share magazine covers with cardboard people like Heidi and Spencer and c) knows even your jock-world celebrity friends are going to derisively label you with third-grade-level nicknames. Tony Homo! Mike Homodano! Good times! When's recess? 12: Speaking of self-awareness: Cornerback Terence Newman (who, with Pacman, provides Dallas the most truly spectacular tandem since ScarJo) was on the golf course not long ago and when the rains came, retreated to a backyard of a friend of ours. How did he define the Cowboys' upcoming season? "We're Jerry and T.O. and Pacman's Traveling Road-Show Circus,'' T-New said giddily. Do you as an observer assume it'll be any day now when Saudi Arabia's Prince Bandar, Nashville's Carrie Underwood and Hollywood's Elizabeth Taylor are spotted on the Cowboys' sideline? Assume this: All those attention whores have, in the 20-year Jerry Era, already preened about the Dallas bench. 11. Next up: Leonard Davis wrestles a bear, deep-fries it and swallows it whole. Terrell Owens races a horse and then weeps when he defeats it. And "Celebrity Boxing'' pits Tonya Harding vs. backup QB Brad Johnson (judging from Brad's performances for the last few summers, she can throw a punch farther than he can throw football). And if Newman's characterization is any indication, the Cowboys will actually embrace it all. 10: Yes. It's been 20 years. And while Jerry sometimes still acts as if he just tumbled off the back of a melon wagon heading through Texas on the way back to Little Rock, he's now an institution in the town, in the state, in the league, in the country. … really, it's no stretch (insert face-lift jokes here) to say that Jerral Wayne Jones is an international icon. 9. The offensive mood-setter is Jason Witten. Jason Witten is a badass. The other top tight ends in football race motorcycles and get tat's and "do'' their hair. Witten has never looked more comfortable than last season against Philadelphia, when he survived a potential-kill-shot sandwich that popped his helmet off his head. … and he kept plowing downfield, The Helmetless Horseman galloping into the twilight. Had two more Eagles re-ambushed him and popped his actual head off, I believe Jason Witten would've kept galloping. 8. Meanwhile, the defensive mood-setter is Demarcus Ware. Demarcus Ware is a badass. You know how the Chargers' Shawne Merriman is a remarkably explosive game-changer who can do almost anything as a front-seven destroyer while at the same time gobbling steroids, nicknaming his sack dances and maybe diddling one of Hef's pseudo-girlfriends? Ware is exactly like that. Minus the gobbling and the gimmickry and the diddling. 7. And think about how star-studded the star-helmeted Cowboys are when the alternative mood-setters are people like Romo, T.O., an offensive line that I believe weighs a combined 9,000 pounds, Zach Thomas and Roy (Personal Jesus) Williams. Last year's club was good for 13 wins and 13 Pro Bowlers. … and this year's team is much more talented. Much more. 6. There is a bridge that connects Cowboys of previous generations with today's team, and today's fans. That's good for karma. At this summer's training camp, Jerry and Wade hosted as guest coaches and assorted special-access hangers-on ex-Cowboys like Michael Irvin, Erik Williams, Deion Sanders, Nate Newton, James Washington, Troy Aikman and Duane Thomas (whom I'd assumed was dead). They worked and/or kibitzed alongside boomerang staffers like offensive coordinator Jason Garrett and secondary coach Dave Campo, who used to be in charge around here. While the Cowboys were in Oxnard, HBO's Hard Knocks was throwing a premiere party in North Texas featuring two generations of 'Boys: Randy White and Drew Pearson, and Jay Novacek and Daryl Johnston. And of course, when the new Cowboys Stadium in Arlington opens in '09, and then when this Taj Ma-Ball hosts Super Bowl three years later, Roger Staubach will deserve credit as a power broker. 5. Compare that to the part-time camp coaches invited two years ago by the loathsome ex-Jint Parcells: The likes of Jim Burt, Carl Banks and Lawrence Taylor. It was like soldiers from Georgia and Russia exchanging war tips. Big nyet. 4. A cute little personal story: Rookie first-round running back Felix Jones bought a modest home near the team's Valley Ranch HQ. His furnishings? The TV set from his college days and some raggedy lawn chairs. How can you not like Felix Jones? All he needs is a laptop with stolen wireless access, a bong and a pervy obsession with Bissinger and he's your basic Deadspin commenter. 3. The Giants' Justin Tuck is upset, he says, "because Dallas tried to buy a Super Bowl this year.'' Really, dumbass? Let's keep GM'ing score: The pickup of Adam Jones came in a trade, no "buying'' there. In the cases of Owens, Flozell Adams, Marion Barber, Ken Hamlin and Terence Newman, all Dallas did was re-sign its own. Only the Zach Thomas signing (at a hardly outrageous $3 mil) counts as "buying'' anything. Meanwhile, in NY: They made one major trade and moved Shockey. (That's the same number of major trades Dallas made.) They re-signed key vets like Chris Snee, Rich Seubert, Derrick Ward and Jeff Feagles. (Just like Dallas did.) And Zach Thomas-like FA signings? The Giants pulled off two or three of them, with Sammy Knight, David Carr and Renaldo Wynn. Technically, the Giants tried three times harder than Dallas did to "buy a championship.'' So suck on that, New York: Dallas is a home-grown juggernaut. 2. HBO's "Hard Knocks'' is almost over. It's not a distraction to the players; it's just an irritant to me. Seriously, if I found pass-catching-rookie-from-Texas-A&M Martellus Bennett and pass-catching-rookie-from-Texas-Tech Danny Amendola to be captivating, I would've spent the last four years studying A&M-vs.-Tech meetings. It's "HBO's Hard Knocks: Lubbock-to-College Station.'' Who needs it? When is "The Sopranos'' back on? 1: And finally, a concessional note: I am coming across as awfully schmoozy here. I'm name-dropping like a sonofabitch. Pac, Mo, Felix, T-New. There goes "Without Access, Favor or Discretion.'' Oh, wait a minute? Who changed the ol' Deadspin banner? Where's Leitch?!