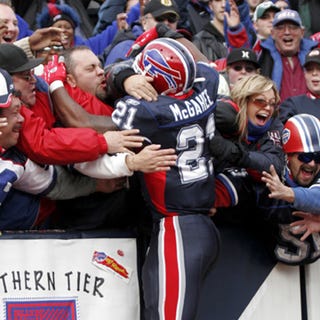 We're less than a month away from the start of the NFL season, so it's time to start the impassioned season previews from various writers, bloggers, diehard fans, cooks, TV personalities, and numerous other walks of life whom consider football the only sport worth watching. This year, the previews will be a little shorter, but will hopefully give us enough of a taste so that, come fall, we'll all be officially sick of previews.
Yoni Brenner is a screenwriter and writes humor for
The New Yorker
and
The New York Times
. He's currently working on "Ice Age: Dawn of the Dinosaurs," which comes out July, 2009.To say that the 2008 Buffalo Bills have flown under the radar this off-season is misleading on two counts: 1., it suggests that there has been any "radar" directed toward Western New York to fly under, and 2., it suggests that the Bills are still from Buffalo. Yes, for those of you not held hostage by the obscure motives and delicate body-chemistry of the Bills' 89 year-old owner Ralph Wilson (A.K.A. Father Time A.K.A. Mr. Burns A.K.A.
Im-hotep
), the Bills have agreed to a $78 million deal to play eight games over the next five years in Toronto, including this November 30th against Miami. That's right, Miami at Buffalo, late November…climate-controlled. For shame! Ralph Wilson is rolling over in his grave. Wait!—no—false alarm. Anyway, despite a catchy tag-line ("The 2008 Bills:
Now with 13% less Buffalo!
"), the whole thing makes me a little queasy. How soon before the "Shout!" song is supplanted by Gordon Lightfoot? How soon before Trent Edwards is required to call audibles in English and French? How soon before the locker room is riven by differing viewpoints on the War of 1812? It's sort of like your girlfriend announcing that she's going to spend a couple nights a week at this handsome, rich guy's bachelor pad—let's call him, I don't know, Pierre. But don't worry! It won't affect your relationship at all. In fact, as she tells it, the intermittent Pierre-boffing is actually going to make your relationship
stronger
. Well, what can you do. Here's to hoping that Toronto is just the gay best friend. They can shop, and check out the latest
Chihuly exhibit
, but when the lights go down and passions rise and the Bills need a town to make them feel like a woman…well…uh…I'm not exactly sure where I'm going with this. But Pierre and Ralph and Gordon Lightfoot aside, here's the good news: the 2008 Buffalo Bills look really, really, not-bad. First of all, let's remember: the 2007 Bills were really not-bad either. Considering a
Book of Job
-like spate of injuries and a season-spanning QB controversy—not to mention the NFL's most difficult schedule—the Bills had no business going 7-9. (Also remember: subtract a Jason Elam fire-drill, or an onside fluke in Dallas, or a blizzard in Cleveland, and they could have made playoffs!) Dick Juaron coached the hell out of the Bills last year; and while off-season moves didn't grab headlines, they should make an overachieving team significantly better. First priority was to get size on the defensive line, and although management failed to reach terms with that 30-foot
animatronic Jason Taylor
, they did sign sometime star and full time behemoth Marcus Stroud (who—if my sources are correct—moonlights in the offseason as part of the Appalachian mountains). If Stroud is indeed as large as the Bills think he is, it should free a healthy Paul Posluszny and newly bejewled Kawika Mitchell to make plays at linebacker. And while last year's oft-injured secondary still lacks a legitimate answer to Randy Moss it abounds in young and whimsically-named talent; including Leodis McKelvin, Ashton Youboty, Jabari Greer, and training camp darling Reggie (wait for it…) Corner. (Established DB's Terrence McGee, Donte Whitner and George Wilson are arguably more important, but, to be honest, I'm troubled by their apparent lack of whimsy.) PART II:
The Part Where We Make Wildly Optimistic Predictions About Trent Edwards
Hello, and welcome to part two! Your first question is probably "Who the fuck is Trent Edwards?" To which I would reply, "Who the fuck are you? That's right, friend. Who…the fuck…are you?" But before we inaugurate Edwardian fever in earnest, let me take you back to an enchanted time in the mythical land of "Cincinnati," where, in the middle 1980's, a magical team called either the "Ben-gals" or the "Ven-gals" (depending on your reading of Aramaic) cut a swath through the AFC under the intrepid head-coachery of Sam Wyche. Well, the spirit of those Ven-gals is back, with the new O-Coordinator and Wyche disciple Turk "Consonants" Schonert, who has installed an uptempo, motion heavy offense. Is this a good thing? I have no idea. On paper at least the yore-Bengals template seems to fit the Bills personnel: two viable RB's, a bright, audible-ready QB. And while no one expects the phenomenal Marshawn Lynch to resurrect the Ickey Shuffle, I think we can agree that a modified
Krump
would be apropos. Add Lee Evans and 6'5 matchup nightmare James Hardy into the mix and you know what?—if the light is just right and you squint a little—the Bills offense looks kind of loaded. Anyway, back to Trent Edwards. True, he threw 7 TD's to 8 picks last year and true, he finished with a 70.4 rating. But here's the thing about Trent Edwards:
He gets rid of the ball
. He feels pressure. He reads the defense. He throws to different receivers. And I almost forgot:
HE GETS RID OF THE BALL
. In short—he looks like a goddamn quarterback. Now, there are plenty of Bills fans protesting the shelving of J.P. Losman. (That bionic arm! That gym-rat spirit! The boyish mop, redolent of sunbeams and brine!) Look: if you ask me, an evenly-matched QB controversy between a consistently underachieving fourth-year pro and a 3rd round rookie is no controversy at all. I don't think anyone (save JP) thinks that JP Losman will be Tom Brady. If Trent Edwards can stay healthy and complement his obvious savvy with consistent Red Zone production—well, he probably won't be Brady either. But he could be Boomer Esiason. And let me tell you, after what we've been through? I would fucking kill for Boomer Esiason. Well, there you have it citizens of Buffaloronto! In the words of the great president: we have nothing to fear but fear itself, and also the New England Patriots. And possibly Brett Favre. And maybe even the Dolphins if Parcells knows what he's doing.
Vive Trent Edwards! Vive Tim Russert! Vive mighty Im-hotep!
GO BILLS! And if you're reading this Jason Peters, please, please, for the love of Marv please get back on the field! We need you baby! We need you!!!