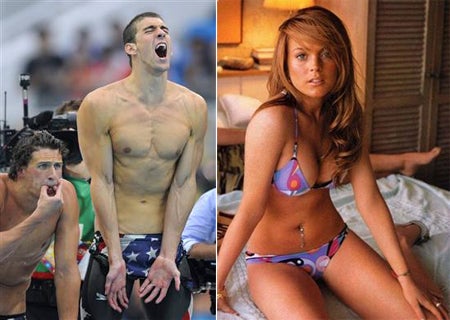 When it comes to Michael Phelps, Lindsay Lohan is apparently willing to postpone this whole lesbian thing . While interviewing Michael's mom Debbie on Monday, Hobbit-like Access Hollywood correspondent Billy Bush received a text message from Lohan, which he proceeded to show Debbie while on the air. Mom's reaction was pretty great. Lohan's message: "Tell him he's fucking amazing, and I want to meet him." From Yahoo Entertainment :
It made them all stronger — which came in handy when Billy showed Mama a text to her son from actress Lindsay Lohan. Billy handed his Blackberry to Mama for her to read Lindsay's message to Michael, and her reaction was priceless. "Pardon the language but..." Billy said as he showed her the text. Mama Phelps' usually jubilant face turned horrified. "OK, Lindsay!!! — Delete! Delete! Delete!" Lindsay's crime? Telling her son he's, 'bleepin' amazing'!
Of course the question now is, will success spoil Michael Phelps? He can avoid the petri dish of bad habits and neurosis that is The Lohan and still have a wonderful fallback position with either
Amanda Beard or Lily Donaldson
. Then there are any number of swim groupies who will be on hand as he takes part in a victory tour of the U.S. following the Olympics.
Mama Phelps On Son: I Could Not Be More Proud Of Michael
[Yahoo]