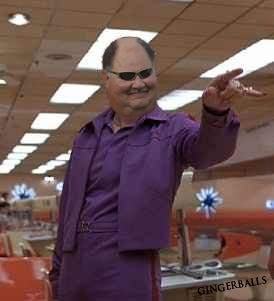 We're rolling through the college football top 25. Today we get things started with a photoshopped Mark Mangino. Can things get any better for Kansans? The season countdown has entered single digits. We're just nine days away from the glory that is Vanderbilt @ Miami-Ohio. Today's Kansas preview is brought to us by Ryan Patton of the very solid Kansas blog linked here.
Don't Fuck with the Mangenius
I know what you're thinking and the answer is a resounding, "yes!" Of course I would give anything to see the Big Man trade spots with John Turturro and don the Jesus' pedderass purple bowling suit. And no, I probably wouldn't ever recover. But it would totally be worth it. Unfortunately, I'll likely have to settle for black velour suits. What? That's not what you were thinking?
Expectations
Very well, instead we'll talk about the Jayhawks and their very rare lofty preseason ranking. In fact it's so rare that it's only happened five times in the history of the AP poll. Yet still, many (even Mark May!) are saying that they are likely to be this year's disappointment. Yeah, the team has been ranked a grand total of five times in the preseason and you think they're going to disappoint?
Mangino Eats Expectations for Breakfast
And probably a few other high calorie treats as well, but that's neither here nor there. Hell, the fact that anyone outside of the Big XII now knows Kansas has a football team is a shit ton of progress for us that witnessed the Terry Allen years ('97-'01). And no, you shouldn't feel bad for not knowing who Terry Allen is. In fact, you should feel blessed. When Mangino took over for said dipshit he brought along Bob Stoops to one of the first team workouts and Stoops informed him that he had at most three legitimate Division I athletes on his roster. So there's that. And sadly there are many more similar stories. Yet in just his sixth season he managed to notch a BCS victory. Kansas now has exactly the same amount of BCS wins as: Nebraska, Florida State, Tennessee and Michigan. They have now exceeded the number of BCS wins by Frank Beamer and his football sized goiter. They also have more than that booger munching team from the east (Methzouri, for the lay person), who has never seen a BCS game (or Final Four). But I digress. The truth of the matter is that until recently I was extremely worried about this season. For one thing, as the old adage goes, it's tough to get to the top, but it's a lot tougher to stay there. And frankly, I figured the team was likely to get a little complacent after last season's success. And when you combine that with the loss of some seniors, some talent and a much more difficult schedule things could get ugly. Especially at a school that has never gone to bowls in back-to-back seasons in its storied history. Enter Mangino. For a guy that obviously exercises zero discipline in regards to his physical appearance, he is a notorious bastard when it comes to his football team. To be sure, Kansas is quite a ways away from fielding a team with comparable talent to OU, Texas, even Nebraska, and probably over half of the teams in the SEC. In short, without a similar attention to detail (first in TO margin, 3rd in penalties, etc.) they probably won't be nearly as successful. But with the rotund dictator at the helm I'm not expecting a huge drop-off.
Offense
As for the personnel, they won't look like LSU when they walk off the bus. But that's the beauty of college football. And the spread offense. As long as you can keep them guessing there is no reason that a quarterback who looks more like a frat guy than a football player can't throw for 3500 yards, 33 touchdowns and only 7 interceptions. In the interest of keeping things succinct, if he does that again, you're going to be hearing about Kansas a lot later in the season than you're used to. Offensively they have to replace their tackles (Collins and Rodriguez), their TE (Fine), a WR (Henry) and a RB (McAnderson). The latter two are very replaceable. I have my doubts for the others, but I'm under the impression that while the newbies may not be quite as good as their predecessors we shouldn't expect a huge plummet either. They're set at the skill positions and if the tackles come along as they're supposed to, there is no reason this offense shouldn't be every bit as good as the one we saw last year. The stats may not be same, but the offense should be.
Defense
On this side of the ball they return 20 of 22 from their two-deep. Unfortunately, the two they lost were All Americans in CB Aqib Talib (1st) and DT James McClinton (2nd). Their replacements fall into the worry category as both were perennial starters and we haven't known a defense without them for quite some time. But when you bring back nearly every starter and all of their backups from a defense that finished 12th nationally you're not too worried about that side of the ball. Throw in the fact that their "best in the Big XII" linebacking unit is led by Crazy Joe Davola (or Mortensen) and I really start to get giddy about watching this defense. Mortensen and Mike Rivera are known to prepare for games by slapping the shit out of each other repeatedly. And Mortensen wants to kill you. Like, seriously. As soon as he's done with football he wants to join the Marines. To kill people. This is exactly what I'm looking for in a linebacker. And that's why I'm expecting big things from the Kansas defense.
Special Teams
As optimistic as it sounds, my biggest worry with this team is its place kicker. Despite being a four year starter Scott Webb was never exactly Adam Vinatieri, but aside from that one game at Arrowhead (blurg) last year he was pretty dependable. As of yesterday it was a three man race, though none of them were considered very capable. As of today, that race could be down to one as presumed incumbent Stephen Hoge has left the team to pursue medical school and the slightly more capable Jacob Branstetter was informed that he may be academically ineligible. Not to pile on the guy when he's down, but how in the shit can someone not qualify to play athletics for a state school?! That leaves Butler County Community College transfer Grady Fowler as the lone ranger. The extent of what I know about him is this: he was an honorable mention All American kicking for the 2007 JUCO national champion and he made 53/55 PATs and 8/12 FGs. Does Kathy Ireland still have any eligibility? She owes us…
Predictions
Since I've already made a short story long, let's just say that the fact that Kansas is even being analyzed means there is no way for this season to disappoint, despite the schedule strength increasingly greatly. Almost Sure Wins (6): FIU, Louisiana Tech, Sam Houston St., @ Iowa State, Colorado, KSU Almost Sure Losses (1): @ Oklahoma Almost Sure Toss-ups (5): @ South Florida, Texas Tech, @ Nebraska, Texas, Methzouri (@ Arrowhead) It's pretty easy to write off last year's success as a product of the schedule. And I'll be the first to admit that it wasn't all that tough. But lest we forget that with the exact same schedule the prior year they went 6-6 and were not invited to a bowl game. So obviously the team got better. And there were only two real changes, the offensive coordinator and the quarterback. Would they have gone 12-1 with this year's schedule? Unlikely. Will they do it this year? Almost assuredly not. In fact, I've gone on record as predicting 10-3 + a bowl game. And since I'm never right, I'll all but guarantee you that doesn't happen either. But shit, I know you wouldn't have believed me if I'd try to predict a 12-1 season last year. And though you might not believe this one either, the fact that you're even entertaining the thought is enough progress to keep me fat and giggly for the time being. Anything beyond that is just gravy. Do I even need to say it?