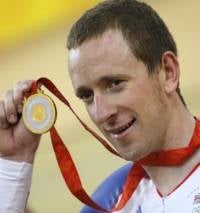 Bradley Wiggins, a double gold medalist in cycling, is the culprit. It's things like this that make people mistakenly believe the British can't handle their alcohol. Or have drinking problems. Wiggins was out celebrating in London House—which is evidently an area of Beijing designed to honor the 2012 Olympics. The Lancashire Evening Post has the details .
A British Olympic Association spokeswoman said: "He was at London House yesterday celebrating his achievements and rolled over the bonnet of a parked taxi that was waiting outside. "The driver was not very happy and got out and there were some police officers already there who spoke to the driver. It ended up very good-natured with photos being taken of him, the driver and his medals."
So he was out with his medals? Is this common?
Olympic hero's drunken celebration
[Lancashire Evening Post]