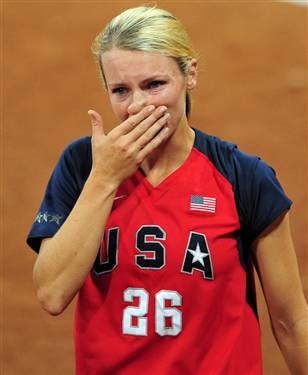 Important doings in the Olympics which you slept through again ...
So is this the Japanese, softball version of the Miracle On Ice? In the most significant achievement for a Japanese female since O-Ren became head of the Ikuta Clan, Yukiko Ueno scattered five hits to lead Japan over the U.S. 3-1 in the gold medal game. What? (Checks notes). It was the Americans' first loss since 2000 — 22 straight games — in a tournament in which they had outscored opponents 60-3.And it's not like they'll get a chance for revenge anytime soon: Softball will not be part of the 2012 Games in London; ironically due in part to the Americans' domination of the sport. Crystl Bustos' homer provided the U.S. with its only run, and now, sadly, she will not be able to achieve her dream of adding an "a" to her first name. While the U.S. team considered committing seppuku, the Japanese of course celebrated in the traditional way,
by levitating their star player
and leading her out of the stadium like a Macy's Thanksgiving Day balloon. •
U.S. Beats Brazil In Soccer. Dogs And Cats, Living Toether ... Mass Hysteria
. This just in; the U.S. women's soccer team — now officially labled as "scrappy" — beat Brazil 1-0 in overtime for the gold medal. Carli Lloyd's left-footed shot to the far post from outside the box won it in extra time. Brazil had beaten the U.S. 4-0 in the 2007 World Cup, so this was a surprise. •
Doh! ... Doh!
Both the U.S. men's and women's 400-meter relay teams dropped the baton at key moments on Thursday — although I suppose that anytime during the race would qualify as a key moment — and once again we miss out on some gold medals. Darvis Patton and Tyson Gay misconnected on the final pass in preliminaries, and then Torri Edwards and Lauryn Williams did the same thing for the women's team. •
Hero Worship
.
Good piece by NBC's Alan Abrahamson
on Michael Phelps' friendship with Stevie Hansen, a young boy who was stricken with cancer. Definitely worth a look. •
Why The Long Face?
Four Olympic athletes
banned for doping
. Oh, did I mention they're all horses?