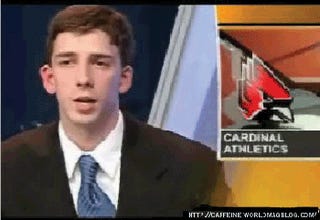 Brian Collins, the flustered college sportscaster thrust into internet infamy thanks to his woeful "
Boom Goes The Dynamite!
" display, has finally seen his hard work and humiliation pay off for him in the best way possible — an actual on-air job. The 2008 Ball State graduate has apparently latched on full-time with KXXV in Waco, Texas (
And Boom Go The Branch Davidians!
) and according to his bio, "encourages residents to contact him about any story ideas." I bet more than half of those requests will be for more Indiana Pacers coverage. Congratulations to Brian.
Brian Collins
[KXXV]
Boom Goes The Dynamite
[CBS]