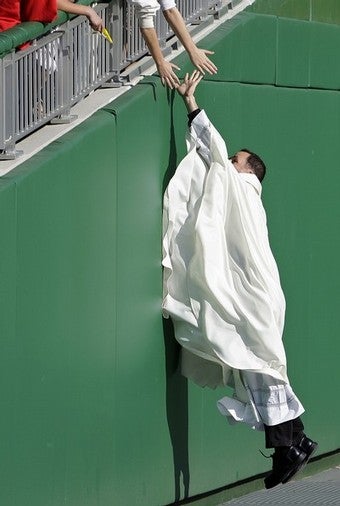 The lawsuit was filed against the Chicago Archdiocese yesterday. The alleged molester, priest Daniel McCormick, has already been the subject of a lawsuit settled on behalf of the archdiocese last week. In that case 11 priests were sued by 16 children. The alleged molestation occured in August of 2005 which was, of course, the year the Chicago White Sox finally won a World Series.
The lawsuit claims McCormack molested the unnamed boy at Our Lady of the Westside School in September 2004 and again at a White Sox game in August 2005. Archdiocese spokeswoman Colleen Dolan said the lawsuit is "not a new case" of abuse. She said the lawsuit is the "finalization of a legal process on this particular case."
Remember back when you were a kid and it was cool to see nuns at baseball games? Well, that's still cool. Priests at White Sox games...not so much.
Family of alleged McCormack victim sues archdiocese
[Chicago Sun-Times]
Priests and White Sox games may not mix well
[Land of Dave Corzine]