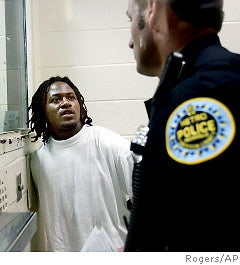 Somewhere Roger Goodell is crying. Or making a boatload of cash thanks to inside information. Right now the Cincinnati Bengals lead the clubhouse at 5/1 . Many teams are set at 25/1. Not content with betting on teams? In addition to team arrests, you can take the over/under on number of individual arrests—currently set at 7.5; Regular season vs. offseason arrests in 2008 and 2009, and what the next player will be arrested for. Drug possession leads at 2/1. BetUS explains that they're acting because of all the interest from fans:
"The NFL is part of the fabric of the lives of fans in America and their interest in their teams and players goes far beyond the field," said BetUS.com spokesman Reed Richards. "This is illustrated by the number of fans who come to us looking for analysis and predictive information regarding which star or team will be in hot water next."
Unfortunately, you can't bet on individual players.
Bet on NFL Arrests
[Bet on Sports]
Kellen Winslow: First Player Arrested?
[Waiting for Next Year]