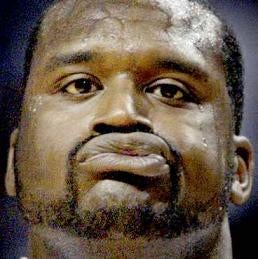 Just as things started looking up for Shaquille O'Neal (a rejuvenation of his NBA career in Phoenix, a rejuvenation of his rap career , making up with his estranged wife ) he might be in store for some troubling times due to the allegations of one Atlanta-based lady who claims The Diesel is "stalking her." A judge found her claims legitimate and granted a restraining order against the big guy.
Judge Richard Hicks granted Alexis Miller's request on Thursday after reviewing her claims that the NBA star threatened her with bodily harm and made harassing phone calls in which he would breathe heavily into the phone before hanging up.
The woman, a 23-year-old "independent recording artist" named Alexis Miller who professionally goes by the name" Maryjane", also alleged that Shaq threatened to ruin her career after she abruptly ended their physical relationship. Well, now that Shaq''s not getting a divorce, he'll have enough money to pay this woman off so she quietly goes away before she starts any more trouble. Don't be surprised if Miss Maryjane is driving around in a Phantom in the next couple months while she continues to kickstart that "independent recording career."
UPDATE:
TMZ's
got some fun documents including an email from Shaq to Alexis that reads: "I dnt no who the fuk u think u dealin wit u will neva be heard from one phone call is all I gotta make no try me. Sho me." It appears somebody disemvoweled the email.
Fulton woman says Shaquille O'Neal stalked her
[AJC]