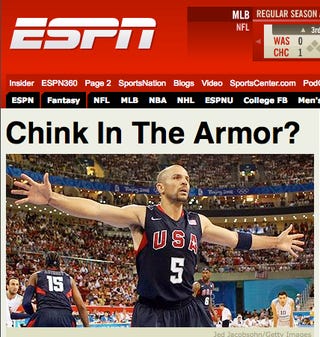 Given all the insensitivity issues that have come up during Olympic basketball, it probably wasn't a good idea for ESPN.com to use "Chink In The Armor?" as their Redeem Team story hed at 4 p.m. today. Well, it's changed now. That's the beauty of online publishing; your sins can be vanquished in an instant. Unless, of course, one person like
Krister Johnson
immediately screen-grabs it and sends it over to Deadspin. We're sure ESPN didn't mean anything by it. Maybe the thought the headline was just an "affectionate gesture." Anyway, stories: • White Men:
Runnin'
• Beijing:
Smuttin'
• Drew Magary:
Tittin'
• Ladies:
Phelpsin'
• Tiki:
Cuntin'
• Clay:
Kige'n
• ESPN:
Croissantin'
• Leitch:
Hall of Famin'
That's it for this week. Tomorrow, Tuffy (pronounced "TOO-Fay" I believe) gets to be a solider boy, made of clay in the KOGOD Weekend Army and round out the Olympics for us.
BACK TO THE FRONT, TOO-FAY.
Plus, more Beijing bureau stuff that will most likely have 90% less skin. Tonight: get yourself a plate of cheese, a sack full of kittens and go have some fun. Thank you for your continued support of
J.E. Skeets.