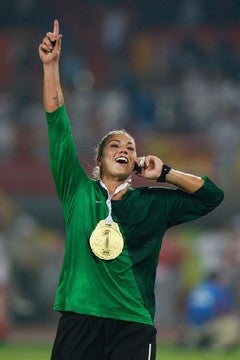 Lindsey Dolich has been documenting women's soccer for ESPNsoccernet and ESPN the Magazine in a freelance manner for about a year and has been the Ron Jaworski of these Olympics, breaking down each strategy and player in a highly detailed fashion that is instantly accessible to the casual soccer fan. We tracked her down this week to ask her about the women's tourney, the notion of redemption in sports, and why she is uniquely qualified to discuss women's Olympic soccer. (Oh, and her Japanese fan club in Australia.)
Tuffy:
So where are you now? We assume ESPN didn't send you to Beijing because you haven't become the 1,000th journalist to do a piece on the Great Wall.
Dolich:
I'm at home with my eyes glued to a 32" inch TV rigged to DVR the women's soccer final. But usually, you'll find me at my desk located in the ESPN The Magazine offices in Manhattan. I have a TV there too, but it's about 7 cm by 7 cm—and I figured I should probably watch on a screen bigger than a soccer ball.
Tuffy:
How have you been covering the events? Are you trying to analyze formations and strategy from a tiny computer window?
Dolich:
I've been watching tons of NBCOlympics.com video, live and rewinds of the women's tournament matches (and in this case, yes, I'm analyzing teams from a tiny window that tends to freeze every 15 minutes), lots of surfing on USSoccer.com, FIFA.com, womensprosoccer.com and other Olympic related websites. I've also been pretty reliant on email communication, up until a week ago, with the U.S. team's PR representative in China for advanced quotes and inside information. But since everyone crashed the party after the women advanced to the quarterfinals, I've in blackout mode since. For an interesting side-note: ESPN.com's U.S. men's national team beat reporter Jeff Carlisle was over in Beijing. After the men bowed out early in group play, Jeff switched over to women's coverage and was able to snag a few quotes for me along the way.
Tuffy:
We like to think your coverage has been so spot-on because you have a little experience with traveling to a distant foreign land with a women's soccer team for a tournament with "lympian" in the title to win a gold medal. In 2005, you traveled to Melbourne to play with the U.S. deaf women's soccer team and bring home the gold. What did you learn from that trip that you have applied to your coverage of these Olympics? (You know, besides that no one in Australia drinks Foster's.)
Dolich:
I can empathize with the U.S women's grueling schedule, and how hard it is to play in heat and humidity. What you saw these women do is more than just a physical feat, it's a mental triumph. When you travel thousands of miles away from home for an extended period of time, the team becomes your family. It's an exceptional time for team dynamics. I also learned that drug testing sucks. A lot. (I was the Carli Lloyd of the women's deaf soccer team.) (Ed. note:
Carli Lloyd got one more chance to hit the target after the medal ceremony.
)
Tuffy:
The Deaflympics soccer tournament is run by FIFA. Is there a pickup soccer game anywhere in the world that isn't owned in part or whole by Sepp Blatter? Does he require soccer players genuflect five times daily in the direction of Switzerland? We like to think he does.
Dolich:
That's not entirely true, the Deaflympics soccer tournament abides by FIFA soccer rules, but the IOC is largely responsible for overseeing the Games. The Deaflympics has been around for almost 90 years, and it's a legitimate, global tournament with an opening ceremony, medals and drug testing. The only genuflecting I saw was from my Japanese fan club.
Tuffy:
Yeah, no. What? Japanese fan club in Melbourne?
Dolich:
I played the somewhat thankless position of right midfielder, which is one of the most exhausting and unglamorous jobs in soccer because you basically run suicides all game long. It wasn't until we got to the final, which was played in Melbourne's Olympic Park stadium, that I realized how popular our team was with the fans—not only were we good, but we were also the best looking team in the tournament (which may or may not be saying much). One of my teammates pointed out to me after the gold medal match that I had a fan club, which I completely dismissed as a blatant fabrication. But she insisted on pointing out in the stands a small group of fans waving a #7 (my number) banner. I thought it was hilarious. Later, before I boarded the team bus, a group of five of them swarmed me outside the stadium to get autographs and pictures, and insisted on finding me again at the closing ceremonies. I don't think it was so much my playing they were a fan of as my blonde hair and blue eyes.
Tuffy:
Has any of your in-depth coverage of the Olympic women's soccer tournament been able to explain what the hell was going on with that Japanese player with the afro? Is she unaware of the lack of success traditionally in international competition with the hidden ball trick?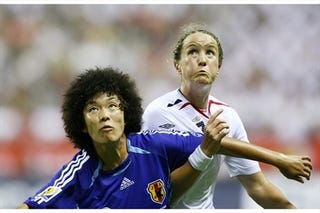 Dolich:
Uh, no. If Eriko Arakawa (owner of the disco 'fro) had more of an impact in the U.S. games (even though she did score against us in the quarters), I would have considered doing a profile piece on her hair—y'know, give David Beckham a run for his money. Strikers tend to be a bit more flamboyant in soccer. Look at Natasha Kai, she's a perfect example with 19 tats, a couple facial piercings, multi-colored shoes and various colored sweatbands. I think we'll have to let "Unsolved Mysteries" take a stab at that one. (Ed. note: We didn't have the heart to tell her that Robert Stack is dead.)
Tuffy:
How do you feel about the IOC and FIFA attempting to make new fans in China feel more comfortable by allowing people that have never watched soccer before officiate Olympic games? (We assume this is the case after watching the men's Argentina-Brasil contest.)
Dolich:
No comment.
Tuffy:
You've been critical (yet fair, we should point out) of the U.S. women's efforts in China this month, but you have been relatively effervescent about Hope Solo's success. Every columnist covering the Games not currently taking a bike ride and fussing about the drivers there has parlayed the U.S.'s success in the tourney into a Hope Solo redemption tour. (The New York Times
starkly painted Solo as a pariah last spring
after the World Cup debacle.) Now, our question: is this notion of athletic redemption utter nonsense and, if not, which states will accept her for cash redemption?
Dolich:
Absolutely not. I think professional athletes have opportunities to redeem themselves at every step of their career, that's what makes sports so special. Who isn't going to pounce on the story of Hope Solo actually making good on "I would've made those saves"? I don't know what else to call it but kismet. Solo went through hell after 2007, personally and professionally, and she deserves major credit for moving past her mistakes. Yes, her comments were inappropriate and poorly timed, but there needs to be a double standard in women's sports. These are competitive, elite athletes—of course there's going to be a little fire and ego that goes into their reactions. When it comes down to it, pure and simple, Solo played a phenomenal game against Brazil. I think its time now for fans and media alike to move on from what happened in 2007.
Tuffy:
The U.S. women have been scoring from all manner of sources this tournament with the absence of Abby Wambach. (Hell, we're just waiting for the ink to dry on our Lori Chalupny Fan Club application.) Has the team been shaken from their desire to stand around and watch Abby do her athletic thing or is there a fair amount of luck involved here?
Dolich:
I think as impressive as Abby Wambach is as a player and leader for this team, her injury was a blessing in disguise. Abby was the team's safety net. When you take away the safety net, interesting things happen, as we saw with this team—scoring became more evenly distributed, the players like Angela Hucles and Heather O'Reilly got the opportunity to step up, and the field opened up in ways we hadn't seen before. Abby is this team's greatest fan. On a conference call following her injury, she basically gave the media a lecture not to underestimate the U.S. women in her absence. There was genuine belief the team would be fine without her. Perhaps there was a bit of luck involved against Brazil, but the team rightfully earned a place in the gold medal match.
Tuffy:
By our rough and rather prying calculations, you graduated from college and became a writer for ESPN at a tender age. (Or, as we call it around here, "bloggin' age".) How did you land that gig? Outside of Todd Jones and Boom Tho, we don't get a lot of athletes-cum-journalists around these parts. (You are welcome to argue the notion that Todd Jones is an athlete. You are not welcome to argue the notion that Boom Tho is a journalist. Our mancrush is strong.) Did you always plan to be a sportswriter?
Dolich:
Well, when my current boss found out I played college soccer, he recruited me for the sake of our co-ed ESPN intramural soccer team (which was about 0-4 and on its way to breaking the Dolphins 2007 winless record). (Ed. note: we should point out, for full disclosure, that we got the Weekend Daddy gig because we agreed to join the Gawker Competitive Eating team.) Otherwise, there was a bit of luck, hard work and resourcefulness involved in cracking ESPN's ranks. I come from a sports family, I think it was always in my blood. Sportswriting was something I'd entertained since I interned for Soccer America Magazine in college. My dad, brother and sister are all on the sports business side— ultimately, I wanted to be the one to write the family memoir 30 years down the line.
Tuffy:
Also, our mathematical pursuits suggest you're roughly the same age as most of the women you cover. How do you approach interviewing them? Fellow athlete? Staid journalist? Drinking buddy?
Dolich:
Shhh... A real woman never discloses her age. I think a little bit of all of the above minus the drinking buddy part—some of the players aren't quite drinking age yet. I like to think my age gives me a bit of an advantage in the sense I can relate more to the players, and speak to them on a level they're comfortable with. When Leslie Osborne came into our office, we talked about her recent trip to Italy, boyfriends and some off the record stuff. I think it's important to crack a couple jokes during an interview, presuming you stick to your agenda.
Tuffy:
Who do you read now? Do you read blogs? Do you read Deadspin? Do you think we're pretty? Please say you think we're pretty.
Dolich:
I'll read anything and everything I can get my hands on. I'm a fan of authors like Paul Auster, Tom Robbins, and some old school stuff. One of my favorite sportswriters is Steve Wulf, who still writes for the Magazine on the rare occasion. It's my job to read blogs! Yes, of course I read Deadspin. I think it's kind of a given in the blog-eat-blog world we're in today. Aside from reading ESPN.com's and espnthemag.com's blog (just because), I'll check out thisisamericansoccer.com, the WNT soccer blog, and I'm kind of obsessed with NY Magazine's mixing pot of content online (it's the sexy Walmart of blogs).
Tuffy:
Did you ever consider blogging before tWWL came knocking?
Dolich:
Sure, why not? I wanted to write a food blog using sports metaphors.
Tuffy:
And, finally: where can we expect to see you in two years? Will you be sporting a 2009 Deaflympics gold medal at all your WPS post-game press conference?
Dolich:
You'll laugh at the sheer shock and absurdity of this, but I'll be entering my second year of Stanford's doctorate program for English. I might be able to resurface from my stack of books on the occasion women's soccer calls, but really, I refuse to give up my byline. Otherwise, I have a plan to red-shirt for the Stanford women's soccer team for the next six years (that or maybe I'll apply for equipment manager). In all seriousness, I'll actually be in a better place to cover women's soccer, with WPS's league offices located in San Francisco, and the Home Depot Center only a 1.5 hour plane ride away. I plan to do a little bit of freelancing for various ESPN entities, like the Mag, .com and our new high school sports group, ESPN Rise—assuming I'm not writing about the Derrida's theory of deconstruction and phenomenology. I might be the first female jock-professor to come out of the starting blocks, so we'll have to see how that works out for me.
Thanks to Lindsey for the interview and thanks to tWWL for being good sports.