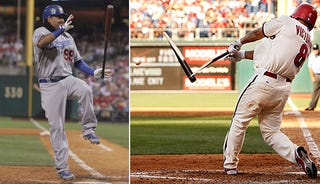 Philadelphia and Los Angeles have good chances at winning their divisions. Jon Miller and Joe Morgan have good chances at mentioning baseball players from the 80s we never heard of, but should be in the Hall of Fame. Your pitchers: Hiroki Kuroda for the Avoiders, and Joe Blanton for the Philbins. If you're jumpy and you know it, click your mouse. * * *
2


5
Bottom 11th
12:21
— Drama! Bedlam! Hootenanny! Pedro Feliz blasts Johnson's pitch into the left field seats. End o' game. Feliz ends up with an RBI to tie the game in the 9th and then the hit to send me to sleep. G'night, gramophiles.
12:19
— He actually doesn't save the day. A pop fly almost gets Ozuna and Berroa to collide, but the plan backfires and now there's DAMMIT JOE STOP SAYING SLIDE PIECE.
12:18
— Werth gets enough of the pitch to advance the runners. And here's your Hamels, ready to save the day.
12:16
— Coste walks, and Werth probably should do something constructive here, because Cole Hamels is on-deck to pinch hit. (Actually, I better see Hamels win this game on a home run.)
12:13
— Chris Coste is batting. The Phillies are out of bench players who don't normally throw 90 mph fastballs.
12:09
— If the Dodgers are in the "no doubles" defense, then how come Manny is in left field? Victorino's single goes toward that very man, and he chugs and chugs into second. Ramirez's outlet throw had the fervor of a librarian, and now a man is in scoring position and Beimel gets tugged in favor of Jason Johnson. Crimony, there's Jason Johnson, Angel Berroa, Andy Tracy ... a bunch of people I haven't heard of in four years. When does Joe Randa make an appearance? The funny thing is: girls actually talk about cell phones like they are men. They get a different one every two years, yet it never seems like they are without one.
2


2
Top 11th
12:04
— Andre Ethier leaves the batter's box a sad panda. Moments later, Pablo Ozuma pops up to quickly immolates the eleventh.
12:02
— Matt Kemp does nothing interesting. Move along.
12:00
— If nothing else, the Dodgers keep getting some semblance of a baserunner most innings. Angel Berroa singles to left. Also: Angel Berroa plays for the Dodgers now.
11:59
— Moral quandary. If the game keeps going on, I am stuck live blogging. But if the game ends, then the nation has to watch Stuart Scott do
SportsCenter
. There's no easy answer.
2


2
Bottom 10th
11:56
— As soon as Ryan Howard makes it to first, suddenly Beimel & Co. pick off the first basemen, because he is apparently fast enough to steal a base in the 10th inning. (Spoiler: he is not.) That's all for the 10th.
11:53
— James Loney heeds the advice of Peppy Hare. He does a successful barrel roll (hit Z or R twice) to make an amazing catch near where Ryan Howard had his, only Loney didn't dive into the tar pits of melted Baby Ruth candy bars.
11:51
— Jon Miller just diagramed quite a lineage of baseball players that were teammates with, or went to the same school as, Chase Utley. It's almost as if California is a big baseball state! Utley flies out after a lengthy AB.
11:47
— Joe Beimel has quite the goofy delivery. And why is the ballboy/girl in the right outfield foul territory wearing a flame retardant jersey? Nope, I don't see anything great in Joe Beimel's numbers that indicate any runs here.
2


2
Top 10th
11:43
— Quickly, the promising inning disappoints us all. A harmless flyout.
11:41
— That's a sexy, sexy double play. 5-1, I believe, is what you put on your scoresheet there. Yep. Right between "GET ME OUT OF HERE" and "SADNESS OVERCOMES ME." (Correction: You can also write "5-2" if you strive for accuracy.)
11:40
— Chad Durbin loads them bases. Nobody is out, by the way. This will end well.
11:39
— With dudes at first and second, I'd like to believe one of those runners will score. But for now, my sweet escape is the ESPN ticker. Sweet, sweet, news bites. Matt Ryan's going to be the starter for the Atlanta Falcons? Good thing he got a huge signing bonus, because he probably will get through the 2008 season with no more than two limbs.
11:35
— Manny gets line drive happy for a single. Meanwhile, Joe Morgan is not over this Rollins fair-or-foul groundout. I mean, it's real-time close, but even still the ball wasn't hit that hard and it didn't look like it, if anything, it grabbed most of the line. And furthermore ... was Rollins
really
going to respond with some kind of miraculous 2-2 hit? Have you seen him bat lately? Okay, I'm not doing another 15 innings. Not for a game in August. I'm just saying that right now.
2


2
Bottom 9th
11:32
— Unfortunately, Rollins does nothing to add to the run total, and that ground ball rolls parallel to the first base line, and the inning ends. A definite lukewarm boo retort. Sort of like "I know I should boo, because that's how my father raised me, but I'm actually feeling good because we haven't lost yet."
11:31
— Jimmy Rollins has a chance to boooooooooooooo-urn the Dodgers and complete the sweep.
11:29
— Feliz proves his worth (!?!) with a game-tying single. Broxton blew the save like your best innuendo joke available.
11:28
— And Tracy still doesn't have an at-bat since 2004. Plus, Kyle Kendrick will punch run for the man.
11:27
— Tracy didn't have to do nothin'. Broxton gave him four meaty balls of wildness. Now it's time for Pedro Feliz.
11:25
— And now for pinch hitter Andy Tracy. 34-year-old Andy Tracy hasn't played in a major league game since 2004. This may not turn out as Phillies fans hope. Are they sure they don't have a Mickey Morandini stuck between the lockers somewhere that they could use in this situation?
11:24
— Fwwwwwwwooooof. Broxton torpedoes a 99-mph "fast ball" up near Werth's shoulders.
11:21
— Jayson Werth gets a shot at the game winnin' single. Or triple. Or E5. Or double-balk. Or ... you get the idea.
11:19
— In the market for a sacrifice hit? C'mon down to Bruntlett's Buntletts. We're on the corner of Elm and Locust. Kids eat free. Victorino is now at second.
11:18
— Base hit by Victorino. Broxton now faces pinch-hitter Eric Bruntlett, although I will say I liked Broxton better in
The Office
as
warehouse employee Roy Anderson
.
11:15
— Jonathan Broxton comes into pitch. Here's something you didn't know about Jonathan Broxton: he's the closer for the Dodgers. Or maybe that's just something
I
didn't know about him. I thought Jeff Shaw was still the closer.
2


1
Top 9th
11:13
— Everything you wanted to know about this inning happened quickly. For a written transcript, please send an extra three farthings to the same place you would buy Sussman's Scorn. Do not —- I repeat, NOT — go to a website where they give you the play-by-play for free. Traditionally these transcripts are faulty and written not out of love.
11:10
— Brad Lidge, who I suppose is pitching now and warrants some kind of mention here, allows Ethier yet another hit.
11:08
— So Taguchi is in left field. So what?
2


1
Bottom 8th
11:04
— Ryan Howard hits perfectly into the shift (I think there were 16 infielders on the right hand side of the field) and the single means nothing. NOTHING.
11:03
— Pat Burrell didn't diss any fans. He gets a single as a result of his loyalty.
11:00
— They're still on this quote in the booth. Tell me again why calling fans "front-runners" is a bad thing? Isn't being a front-runner a good thing?
They're the front-runners to win the 3-legged sack race
. Call ME a front-runner, Rollins, if half of Pennsylvania is insulted.
10:59
— Unleash the boo-hammer, Philadelphia. Ji-Rolli swings horribly and sits back down quickly. That's his second K of the night.
10:57
—Hong-Chih Kuo, pitchin'.
2


1
Top 8th
10:55
— Russell Martin rolls over on a pitch, and the Dodgers are out of eighth inning at bats.
10:54
— Jeff Kent retirement rumors swirl out of nowhere. Jon speculates if Kent won a World Series, he might retire. Joe Morgan disagrees, citing if you enjoy the sport you will play until you don't want to anymore. This is about 10% of a Big Red Machine anecdote. Do not mark it down yet.
10:52
— Torgo singles to right. But he doesn't mindlessly amble down to first like I expected him to.
10:48
— They could have fixed the crack on the newest facsimile of the Liberty Bell. Yes, they could have. They could have also made plastic figurines of the Statue of Liberty to show a bit more cleavage. In fact, this gives me my second idea in as many innings.
2


1
Bottom 7th
10:46
— There seems to be a pattern. If I deride a pitcher or batter, he does well. This gives me an idea.
Do you have a player on your favorite team who you wish would stop sucking? Have you tried everything, from throwing batteries to sending death threats to their Alzheimer's-stricken grandparents? Look no further! For just three easy payments of $29.97 I will personally make fun of them for an inning. Studies have shown Sussman's Scorn has reduced the suckage of any athlete by at least 90 percent! But don't take my word for it. Look at this entire live blog. It's rife with examples! That's Sussman's Scorn. Look for it wherever tasteful nudie mags are sold. Because I know that's where you're going after the game. Pervert.
10:44
— So, the Phillies have a tough schedule in September. Better save some of those Chan Ho Park earned runs for those games.
10:42
— If you were looking for eight more runs this inning, you're in luck! Chan Ho Park takes the mound. Also, I believe I heard passing mention of the Korean Olympic baseball team. Give yourself a markin's.
Seventh Inning Stretch Entertainment
(contains adult situations, so use caution, workaholics)
2


1
Top 7th
10:37:30
— So long, seventh. Ramirez harmlessly grounds to shortstop.
10:37
— Just a suggestion here — you've seen how useful they've been the rest of the game leading up to this — but maybe Carlos Ruiz should take the Flubber out of his mitt. Some of these balls need to actually be caught.
10:35
— Kent finds the Tara Reid-sized gap between short and third, and Ethier easily scores on the single.
10:34
— Ethier creeps into second base after a bouncing ball in front of Ruiz. Something tells me they won't intentionally walk Jeff Kent and pitch to Ramirez.
10:31
— Potty break. Ryan Madson replaces J.C. Romero on the mound.
10:29
— Andre Either walks on four pitches. Those four pitches would have only been strikes if the batter was a 10-foot-tall gelatinous cube.
10:27
— Kemp is finally struck out, but the greater miracle is that Jamie Moyer didn't retire during that at-bat.
10:25
— Meanwhile, Matt Kemp is still batting. Let me just push play on "Freebird" for a second time here...
10:23:30
— Or don't listen to me. (This is why I went into blogging.) Pierre takes off and Romero picks him off.
10:23
— Sweet Deuteronomy we get it Juan Pierre is fast. Now just pitch the ball, Romero.
10:22
— This Matt Kemp at-bat with Pierre running-and-not-running has actually lasted since last Thursday.
10:19
— Romero is putting on a clinic on how to throw to hold Pierre close at first. Unfortunately, this clinic has no practical applications in your industry.
10:16
— Juan Pierre makes his pinch hit appearance. Watch out! He's fast. He's a bunter. He'll getcha if he gets on base. And sure enough, he gets on base and makes all new-age stat fans weep a bit inside.
10:14
— Hey, you thought Joe Blanton was going to pitch in the seventh inning AND THEN HE DIDN'T. That's more annoying than the fake-throw-to-third-and-also-to-first. So we wait a bit longer for J.C. Romero to warm up and take the mount.
1


1
Bottom 6th
10:09
— It turns out that, no, nothing will happen in the sixth. Sorry to get your hopes up like that, but consider this a life lesson.
10:08
— Shan'e Vict'orin'o groun'ds out to shor't. You have to feel that, after that diving catch, there's going to be some kind of Phillies beatdown on Kuroda this inning. Then again, maybe this game actually isn't the fifth sequel to
Major League
.
1


1
Top 6th
10:02
— Hot damn. Ryan Howard dove head first into a puddle of chocolate pudding to catch that foul ball. Now, everyone in the dugout can lick Howard's uniform as a sign of delicious respect. Blanton's out of pop-o-matic Trouble.
10:01
— Blanton is starting to get tired. Or chaffed. Hard to tell from TV.
9:58
— In case you needed more nationally-televised Phillies games, there's another one tomorrow. And Yankees-Sox on Wednesday! That one will be doubly important, because that's really all these AL East teams have, since neither is making the playoffs.
9:54
— Yeeks. Fantastic catch by Victorino. He had to bend his left elbow over three times to reach that fly ball. But he's no Aaron Rowand, because he still has his nose attached to his face.
9:52
— Did Manny learn nothing about the probably-not-intentional-but-so-what HBP and strikes out swinging. Blanton is deep in this game, but I think the Dodgers could still benefit from a scouting report:

Name
: Joe Blanton
Born
: December 11, 1980, Nashville, Tennessee
Throws
: Right
Bats
: Right
John McLaughlin
: WRONG.
Weight
: 255 pounds
Weight on the Moon
: Trick question. Joe Blanton has never been on the moon.
Strengths
: Good command of pitchers
Weaknesses
: When playing
Risk
, tries to conquer Asia first
If You Rearrange The Letters In His Name You Can Spell
: Let No Banjo
1


1
Bottom 5th
9:48
— Pat Burrell at bat. That's deep and I think it's already in Manny Ramirez's glove so don't get your hopes up on a second run quite yet.
9:47
— I do believe Joe Morgan just said Ryan Ludwick is an MVP candidate. This isn't a stretch, I just think it's still baffling that the last time I saw Ryan Ludwick, he was striking out multiple times a game ... for the Toledo Mud Hens.
9:45
— The Chase Utley singles in Ruiz, and it's a tied game. If you wanted a reason to boo Utley, how about not extending the single into a triple? Or for not throwing the bat closer to the dugout, giving the bat boy a farther way to jog?
9:43
— In conclusion, everyone gets booed in Philadelphia. Get used to it.
9:41
— Jimmy Rollins has fan support. An ESPN acrostic fan sign says "W
E
S
AY STO
P
BOOI
N
G. J-Roll." A bit of a reach, but then again, Rollins struck out. So, good cases on both sides.
9:38
— Time for Blanton to bunt. Does "Joe Blanton" sound like a mediocre 1960s sitcom neighbor? The bunt is successful, and there's a dude on second.
9:37
— So, hope you didn't believe that latent hype about a no-hitter. Carlos Ruiz singles up the middle. And there's the other Yellow Book futuristic commercial. In the future, our tramps will stamp their lower back with the name of their favorite brand of hard lemonade.
1


0
Top 5th
9:33
—
There
's a better double play, in that it was actually a double play. Back to the no-hitJINXJINXJINXJINXter.
9:31
— A double play opportunity turns into a mere fielder's choice, because Jimmy Rollins can't throw cleanly to first. Booooooooooooooo. Then again, Utley didn't throw it to Rollins well. Then again, Matt Kemp didn't slide anywhere near second. Kemp actually slid and landed in a GameStop on the south side of Philadelphia, crushing three kids wearing black jeans.
9:29
— Solid. College football opener. With Keith Jackson impersonation goodness. Square me.
9:27
— Well, shut my mouth. Kuroda dinks a ground ball through the infield for an Asian single. An "Asian single," if you don't know, is just like a single, but has the word "Asian" prefacing it so that politically correct baseball fans think it's some kind of racist inside joke.
9:25
— Taco Bell commercials are more irritating than canker sores. There are some neighborhoods in which "Give me something with a bunch of beef" means something completely different. And if you put it to some kind of beatbox ... well, then you'd just get your ass kicked.
1


0
Bottom 4th
9:24
— Runs? In my inning? It's less likely than you think.
9:22
— Manny Ramirez runs and catches a ball, which is something probably 95 percent of major league outfielders can catch, but when Manny does it, there's just this sense of "he'll fuck it up." Or maybe we expect Manny to catch the ball, then summon a whippoorwill, tie the baseball to a string, and have him send the bird off, string in beak, to faraway lands. What a free spirit!
9:20
— I think the "happy birthday wish" was kind of a given, but I didn't see the "happy anniversary" wish to Joe Torre. That's nice to know for the next bingo sheet. Bat mitzvah wishes are still, for all intents and purposes, off the table.
Top 4th
9:17
— Martin is well on his way to hitting .340. But not until next year. The strikeout ends this quick little inning.
9:16
— Commenter dickryder points out they did mention Bonds, way back in the beginning of the game, when they were talking about the folks Jeff Kent has hit in front of. Good catch. Speaking o' the good catches, Rollins makes a nice play and throw to get Casey Blake out.
1


0
Bottom 3rd
9:12
— The shift works. Zowie, Jon Miller already points out the Phillies have no hits so far. Isn't that jinxing it a skosh?
9:11
— The defense shifts for Ryan Howard with two outs and one on. The shift, if you can't see it at home: all infielders are standing behind Howard with catcher mitts.
9:09
— Joe Morgan doesn't believe Russell Martin can hit .340. Finally, some common ground between him and me. With the Phillies struggling to get runs tonight, let's look at the opposing scouting report:

Name
: Hiroki Kuroda
Born
: February 10, 1975, Osaka, Japan
Years in MLB
: 1 (rookie)
Years in Japan
: 11
Days In Toledo
: 1 week
Pitches
: Good fastball, darting slider, effective splitter, and a master at the eeler. The eeler is a pitch Kuroda sometimes uses in jam situations that, when the bat strikes it, turns the piece of lumber into a long wet fish.
Walks
: 34
Intentional Walks
: 6
Intestinal Walks
: 2 (which is why he has sworn off Jack in the Box)
Key To Beating Him
: Approach the plate with your own eel.
9:05
— Peter Gammons on how the Dodgers are already selling a lot of Manny Ramirez merch. A dreadlock wig helmet for $25. The ones they don't sell get ground up and resold into nachos.
1


0
Top 3rd
9:03
— Big money, big money, no whammy, no whammy.... SWING! Aw, a double play for Loney.

8:59
— Jeff Kent legs out an infield single, somehow. They're either booing Kent for reaching base, or Jimmy Rollins for not making a Jesus-like play to throw him out.
1


0
Bottom 2nd
8:57
— Blanton strikes out, and finally knows what it feels like to be a small portion of the batters he faces.
8:56
— FUCKING "SLIDE PIECE" MENTION, JOE MORGAN.
8:55
— Everyone make fun of Joe Blanton's batting approach. That swing was similar to a kid who played on my third grade baseball team. (He batted 11th.)
8:54
— If Kuroda is deceptive, how is turning around and slowly faking an arm movement to throw to second base going to fool
anyone
?
8:52
— This just in: if each team has a player hit by a pitch, it's officially retaliation. Manny was hit in the first, so Jayson Werth was plunked this inning. This is because they are batters similar in talent. Werth is OPSing 80 points less than Ramirez, but what do I know about equality? I'm still learning about the Hawai'i'a'n apostroph'e.
8:49
— Now that I'm thinking about it, where did this apostrophe come from? Was that part of the deal that incorporated them as a state? Are we putting it back in because we want to feel tolerant of other nationalities? If Hawai'i is a contraction, what does the apostrophe replace?
8:48
— Some Little League World Series dap for Hawai'i. Feel free to mark it.
8:47
— Gilette has made some kind of product that prevents dry skin. I believe we have that already, and it's
somewhat free
.
1


0
Top 2nd
8:45
— All right, after a bit of Matt Kemp shenanigans, Ethier flies out to center to close out this part of the second.
8:43
— Oh, wow. Kemp tricks Ruiz into throwing to second, and as soon as he does, Kemp hops over to third. "That should be a stolen base." Why wouldn't it be, Joe?
8:42
— Kemp hits a scorcher to left field, and Burrell kind of fancypantses his way backward and the ball skids off the side of his glove. No error? Really? All right then, double for Kemp.
8:41
— Two outs already. A weak line drive to short, and a slightly less weak liner to second.
8:40
— Wishing someone a happy birthday. Th daughter of someone who works on the show. Chip that square.
1


0
Bottom 1st
8:38
— Ryan Howard doesn't get his opposite-field home run, leaving Howard booooooooored at second base. That inning's all done.
8:37
— Russell Martin goes out to talk with his pitcher. Kuroda speaks no English, and the Dodgers coaches have no idea how Martin communicates with him. Then why even cover the mouth with the glove?
8:34
— They're going back to the Andre Ethier walk in the first and noticed that Blanton threw five balls at him, not four. This wasn't one of those borderline pitches. All them babies were far off the plate. The Colorado Buffalo football team sees nothing wrong with this.
8:32
— So are they booing Kuroda for checking Rollins at first, or booing Rollins for almost getting picked off?
8:28
— If you were hoping on more about
The People v. Jimmy Rollins
, you will be disappointed. Rollins quickly rolls over a grounder to short that Garciaparra can't handle. Safe at first.
1


0
Top 1st
8:25
— Torgo strikes out. The master will be most unhappy. End of inning with the bases loaded.
8:23
— Morgan: "Manny Ramirez makes the entire lineup better just by being in it." If I were playing Hollywood Squares, I'd be fucking terrified to say "agree" in case it was a trick question. Because I don't want to be
that fool
.
8:22
— Nomar Hamm flies out and can't bring in Kent. And there's Casey Blake batting. This is the first time I've seen him in a non-Indians uniform, and .. yep. Still looks like
Torgo
.
8:20
— James Loney grounds between first and second. One run scores. T-ball time.
8:20
— Joe and Jon with a discussion of the difference between good guys and bad guys, which will be studied and shared in philosophy lectures across the nation.
8:18
— Hitting him works. In fact, it cuts down on the pitch count. Intentional walks should just be comprised of rolling the ball toward the guy's feet.
8:17
— And now with Kent at first and Ethier at first, Blanton faces Ramirez. Glass Joe v. Soda Popinski. Who do you pick?
8:15
— Jeff Kent's batting, and Manny Ramirez stands on deck. The bagginess of the uniform is just so liberating, isn't it?
8:13
— I haven't heard Joe Morgan at all this entire at bat. Which is why the lavatories must be put much, much closer to the press box.
8:10
— What's Blanton's trite nickname? J-Blan? Whatever it is, he K's Matt Kemp to start the game.
8:08
— Don't interrupt Jon Miller when he's announcing the lineup, Joe.
8:07
— Oh, good. It looks like the live blog actually works.
[raps on the biggest sequoia in the forest with the largest fist known to mankind]
8:05
— I have a feeling that in the future, if a kid calls up a martial arts instructor on the Jetsons Vis-A-Phone™, it will cost his parents 2,000 FutureBux and ground the child for a week.
8:04
— Peter Gammons on the tumultuous season Jimmy Rollins, or "J-Roll," has had so far. I wonder if the old breakfast standby, the jelly roll, is jealous of that easy-to-parse nickname.
8:01
— Jon Miller with the Manny Ramirez/Los Angeles/Hollywood metaphor in the intro. When he arrived, he was a hit! Then the movie took a strange twist in a losing streak. No way is JoeMo gonna keep that running gag going.

Pre-Telecast Babble
I'm still loving how Oakland traded Joe Blanton — a below average, not-at-all-dominating righthanded pitcher — away for
three
prospects. In fact, with Blanton and Rich Harden gone, look at the A's rotation. No,
look at it
. I don't recognize one of those five guys. Did Billy Beane play his
MLB 2K8
so far into the future that he's using computer generated pitchers for his actual team? But, of course, this isn't about Oakland. It's Philadelphia and Los Angeles. They're both trying to get into the playoffs, and one of them probably will. Since the Phillies are trying to win more games than the New York Mets and it's almost September, you can guarantee they'll succeed. As for the Dodgers, the key to winning the NL West is to send Brandon Webb and Dan Haren anonymous letters and pamphlets persuading them go to on a Buddhist retreat for about two months. Sound crazy? It worked for the Tigers and Jeremy Bonderman. Enough of this silliness. Bingo bango bongo.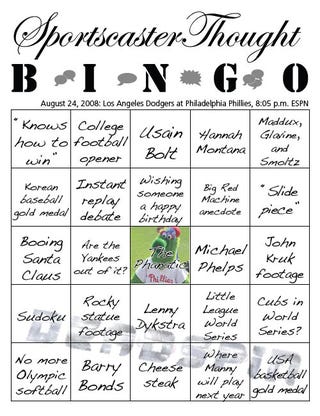 Feel free to hold DUAN either here or in the
Tuffy Zone
. If you are unsure which one to pick, think about the subject content. For example, if nobody's going to get your reference because it's about a film noir from 1939, it probably belongs in Tuffy's post. If it's about the NES game
Dr. Chaos
, then, well, you can probably guess where it needs to go.